On Wednesday, a delegation of the employees of the BMW Group was received by President Zoltán Szabó of the Clinical Center of the University of Debrecen, who informed them about the patient care activities available at the institution. The representatives of the German car manufacturing company visited, among other things, the Emergency and Gastroenterology Clinics as well as the Department of Trauma Surgery.
Zoltán Szabó, President of the Clinical Center, welcomed the representatives of BMW and provided them with basic information about the health care services this institution can offer to the workers of the Debrecen automotive plant currently under construction. The company's employees were given a tour of the 42-bed Emergency Clinic, where, in addition to the department providing intensive care, they could also take look at the general emergency department and the outpatient department. They appreciated the chance to learn about the so-called triage principles in use, which apply to each and every patient entering the system of emergency health care.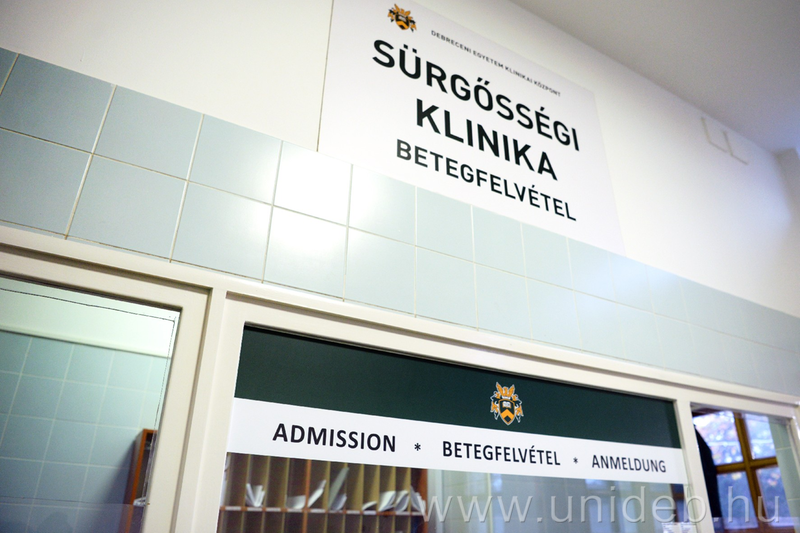 "Following the settlement of BMW in Debrecen, the tasks of the local health care system will also expand and the patient care units of the Clinical Center have already launched preparations for this development, especially with regard to emergency care. During the course of the BMW visit, we also informed the company representatives about the availability of a tri-lingual patient management system introduced at the Emergency Clinic. As soon as you enter the complex, you will notice relevant information in the form of signs and monitor images in Hungarian, English and German, which are intended to help provide quick and efficient points of departure to those in need of care," said President of the Clinical Center Zoltán Szabó after the visit.

At the clinical premises, the employees of BMW highlighted that the purpose of their visit was to prompt joint thinking between the Clinical Center and the company regarding how they could provide the highest level of health care both for their Hungarian and foreign employees expected to arrive in Debrecen soon.

In the end, the members of the delegation of the German car manufacturing company gave a positive assessment about the meeting as they had received satisfactory answers to all their queries from Professor Zoltán Szabó.

In addition, the representatives of the German car manufacturing company were also able to take a glance at the activities of the endoscopy laboratory of the Gastroenterology Clinic, while at the Gyula Kenézy Campus, they could even check out the actual process of trauma care.

Press Center - CzA