On Thursday, Professor Izaak Hendrik Wenno, dean of the Indonesian Faculty of Teacher Education, Pattimura University, gave an online presentation with the title Archipelago Education, organized by the National Association of Doctoral Students (DOSZ).
The event took place within the framework of the DOSZ ambassador system, with the participation of Indonesian DOSZ/ doctoral association ambassador Arya Wirayuda within the framework of the Hungarian-Indonesian Public Lecture Series, which started back in the fall of 2022.

DOSZ started the development of the ambassador system in the 2021/2022 academic year. Through this system international doctoral students pursuing doctoral studies in Hungary receive support for the organization of their own communities and the promotion of professional-scientific relations.

This year, as many as 37 countries are represented in the program by one doctoral student ambassador each, which, among other things, organize briefings, round-table discussions, and scientific conferences, thereby building cooperation between their respective country and Hungary.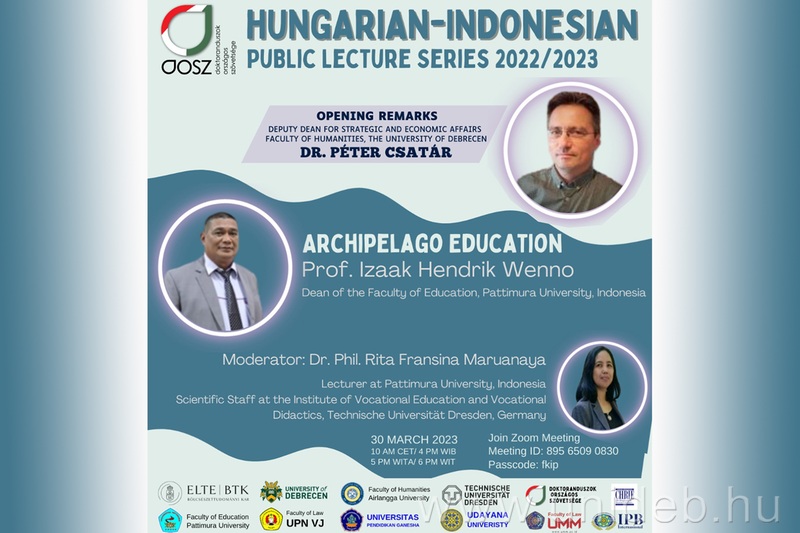 - In addition to presenting the Indonesian and Hungarian universities, the aim of the current presentation to present scientific results, thereby strengthening the relations between the institutions - Dániel Molnár told the hirek.unideb.hu portal.

The president of DOSZ emphasized that the series of lectures also creates an opportunity for young researchers from different countries to get to know each other, thereby promoting future scientific and professional collaborations,  
The speaker and the students were welcomed by Péter Csatár, deputy dean of the Faculty of Arts (BTK), on behalf of the host University of Debrecen.
- Since the pandemic, the need to expand and maintain relationships has increased. The world has opened up again and international relations seem to have become part of everyday life with the help of online platforms. University life and science have never been as international and cooperative as they are today, as a result of which all higher education institutions are welcoming foreign students and lecturers, Péter Csatár said in his welcome speech.
The deputy dean of BTK emphasized: the Faculty of Arts of the University of Debrecen is also committed to openness and cooperation in both education and research.
Our commitment is indicated by more than 100 Erasmus connections, numerous Horizon 2020 joint international research projects, and joint trainings of the language departments. It seems that the relationship between the Southeast Asian region and Hungarian universities will become closer in the future. Today's presentation is a step closer to this, Péter Csatár added.
Professor Izaak Hendrik Wenno's presentation entitled Archipelago Education focused on presenting the current educational structure of the archipelago as well as its renewal. He analyzed numerous aspects of cooperative teacher-student relationship and specifically addressed the challenges inherent in conducting creative work with students.
Press center - BZs