As a recognized member of Microsoft's Learn for Educators Program, the Faculty of Informatics (FI) of the University of Debrecen also participated in the professional summit held in Warsaw, Poland, and hosted by the global US-based company, where FI presented its scientific and educational achievements with the support of Microsoft as one of the outstanding partners of this international corporation.
The November conference of Microsoft at Warsaw's Kozminski University was attended by institutions of higher education that have built a steady relationship with one of the world's largest software companies  and have effectively integrated the results of this cooperation into their academic and educational activities. Thus, Microsoft had also invited the Faculty of Informatics of the University of Debrecen to the event, since FI has recently become an active partner institution of the global company.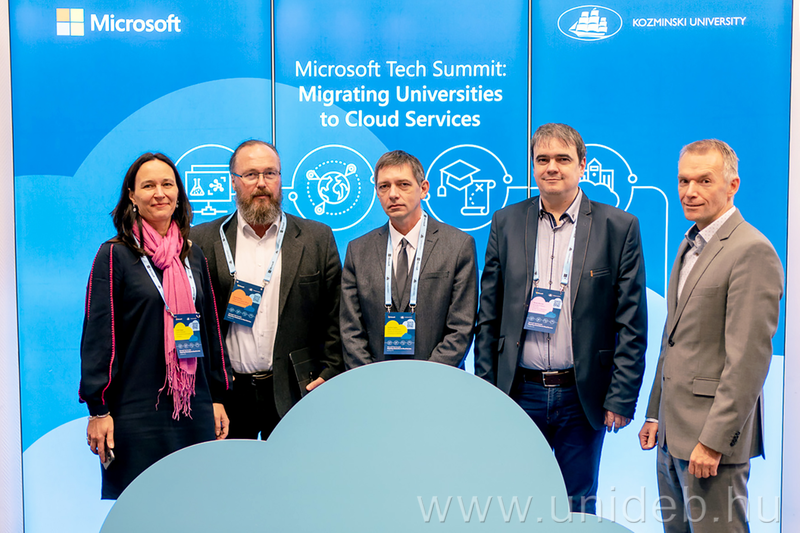 András Hajdu, Dean of the Faculty of Informatics of the University of Debrecen, told hirek.unideb.hu the following: the focus of the conference was primarily on research and training development related to data science and artificial intelligence that use cloud technologies. FI has already achieved outstanding results in this field.

"The chief question was how the institutions could utilize their former professional experience in education and research. In each case, it was essential to introduce methodologies and technologies that had been developed in cooperation with Microsoft. Since great emphasis is normally given to artificial intelligence-based data processing in the teaching and scientific activities of our faculty, the application of cloud technology in the field of data science is also a central topic for us, just like it was at the conference. In addition to all this, the University of Debrecen has established and maintained a close professional relationship with the global company for the past two years, and this cooperation harmonizes perfectly with the multidisciplinary nature of our institution," said the Head of the Faculty.

During the course of joint projects and work with Microsoft, FI has incorporated a number of different technologies into its programs and courses, which lend Microsoft a decisive role and prestige in Hungarian higher education.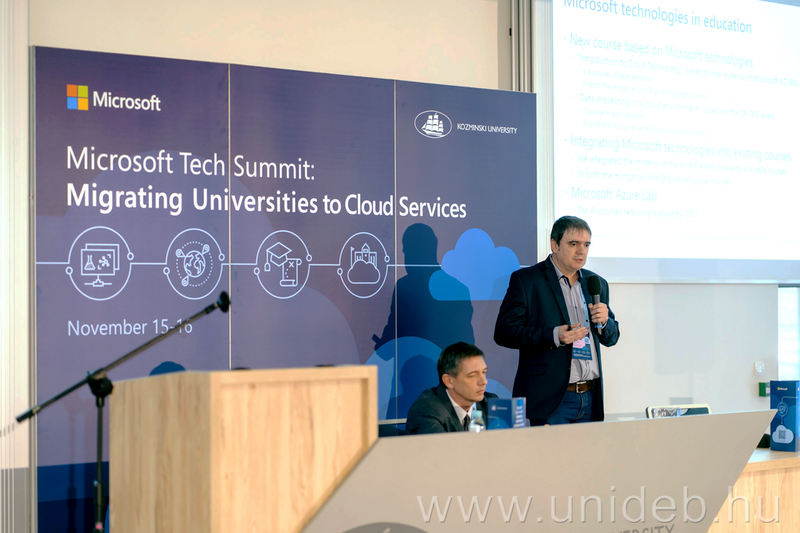 "The company's representatives expressed their genuine appreciation when we presented our portfolio and outlined our previous achievements as well as our ideas for the future. Our business certificate issued by Microsoft, which can be obtained free of charge, is unique in our region and is acknowledged by market leaders and participants almost everywhere in the world. In addition to this, mention should be made of artificial intelligence-based scientific topics, such as molecular classification, cell detection, the application of Big Data in the field of health care, as well as the developments and research related to autonomous self-driving vehicles," said the Deputy Dean for Economic and Foreign Relations of the Faculty of Informatics at the University of Debrecen.

Tamás Bérczes also added that a joint development through cooperation with Microsoft could be prepared in the future that would use artificial intelligence assisting students to formulate what level or sort of performance, training, results, exams, and certificates would be needed in order to fulfill the requirements set and determined by industrial companies.

Press Center - BZ