The recent premiere of the musical titled "The Lion King" at UD's oDEon turned out to be a huge success. In the adaptation of the two-act play written and composed by Elton John and Tim Rice, the company of international students of the university theatre, together the child actors and actresses who have just made their debut by immediately playing leading parts, performed beyond expectations.
It was for the very first time that the popular musical was presented this past Monday evening at oDEon University Theatre. In addition to superb acting, the production was made extremely lively and unique with the help of spectacular costumes and stage props, modern lighting and sound technology, and colorful projections on the LED wall set up behind the stage.

Zoltán Bács, Chancellor of the University of Debrecen, described the theatrical company of international students and the role of the university theatre oDEon by highlighting the fact that they constitute an important link towards the entire international student community, promoting the integration of students and contributing to the popularization of the University of Debrecen.

"Students routinely tend to convey their experiences to social media these days, and those who see these successful productions or learn about them by hearsay become curious and join this company. It is exactly this outcome that has been our goal in order to create a continuously expanding and growing student community with the help of our theatre and culture in general. oDEon demonstrates to both international and Hungarian students how diverse the university's program offer really is beyond academic education, and this can make our institution truly attractive. Sports, art and culture all have an inherent community-building power, and our task is to make it easily accessible for the students to take advantage of these opportunities," said the Chancellor.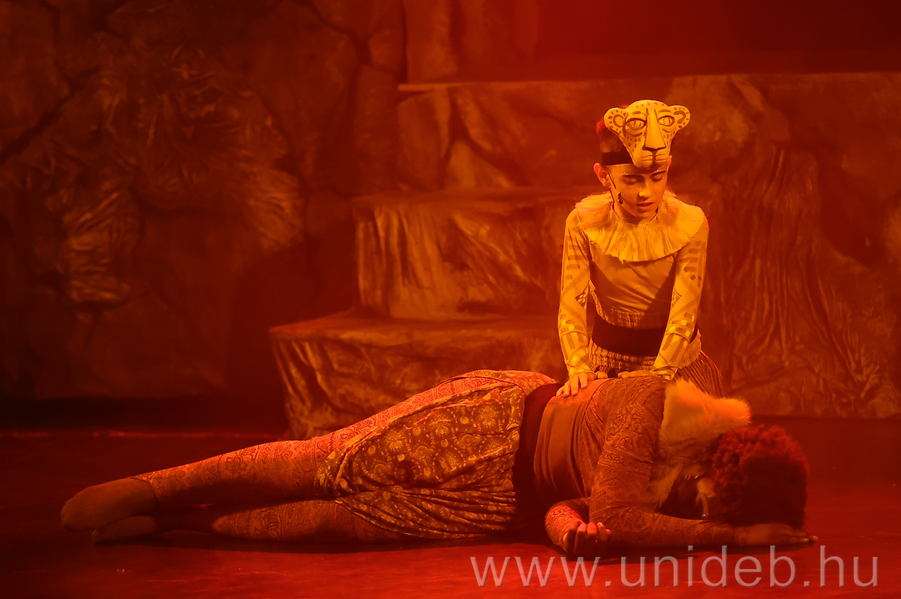 There was also a huge crowd of international students in the audience on Monday evening in addition to expats working in our city coming to see the production, which was performed in front of a full house, as expected.
"We have received very good feedback so far. It perhaps even surpasses the successful reception of "Hair," which we presented previously. We saw the play in Paris back in September, and I do believe that our production was at least of the same artistic standard, even though the budget for the French version was several times of the show that we created here. The end result was a play that would be successfully performed in any Hungarian stone theatre with these young people, with this stage direction and with this level of spectacle. The full house attendance is partly due to the recognition of the former high-quality performances and also to the fact that the company is very popular with the tight-knit international student community, whose members can hardly wait to see the upcoming plays," said Veronika Végh, Head of oDEon University Theatre to hirek.unideb.hu.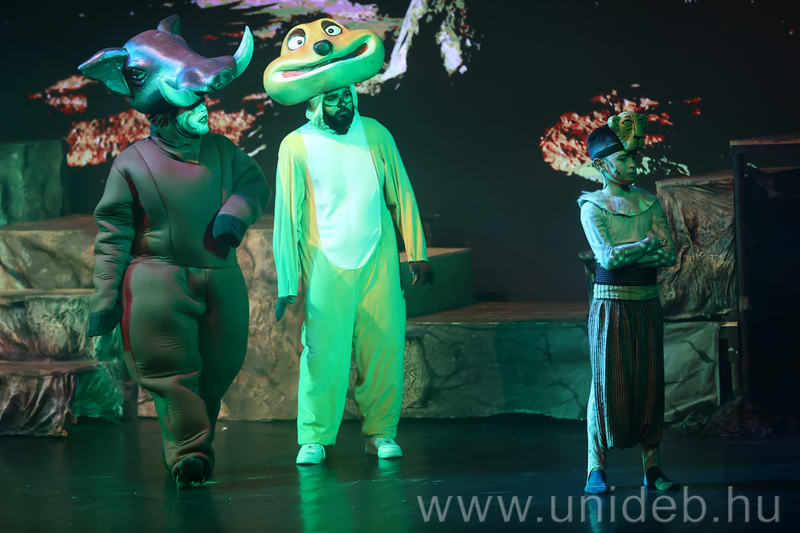 Director Szabolcs Csáki noted that the actors and actresses had performed beyond expectations, as they could confidently handle and solve even unexpected situations, and the positive reactions of the audience also helped them in this respect. He emphasized that these were amateur actors and actresses who had a genuine chance now to get to know the essence of histrionic arts, thus making their performance liberated, natural and honest.

Indeed, eighty percent of the student cast featured in the play took to the stage for the very first time in their life, and just about half of the lead characters seen in the previous blockbuster, "Hair," could return to the stage, as several of the original "thespians" had graduated from university in the meantime. Altogether, a total of twenty-five young people played in "The Lion King."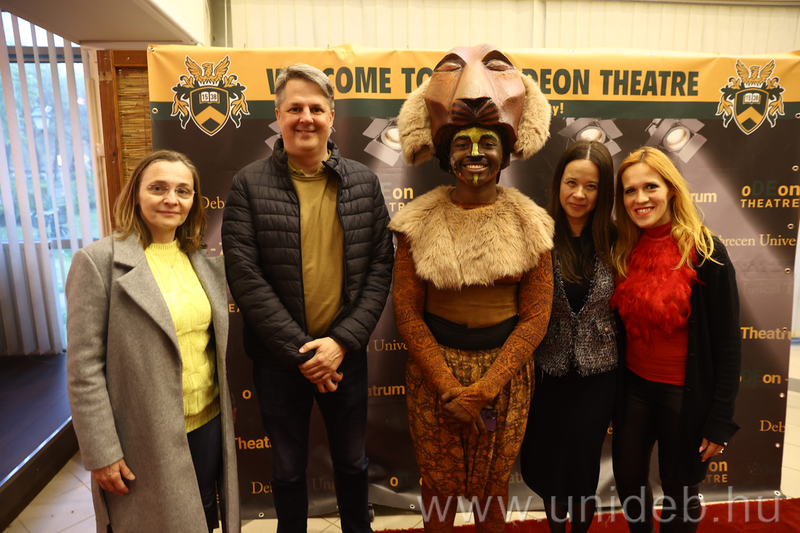 During the intermission of the performance, the audience was also treated to a neat surprise: actors and actresses dressed in animal costumes appeared from behind the stage, and it was possible to take selfies with them. An additional fun fact is that the parents of Rosh Keith, who plays the part of Timon in the production, came to Debrecen straight from Dubai to see their son appear on stage.

Given the growing interest, the play will be presented again this week: the next performance will start at 7 pm on Wednesday at oDEon. Students and employees of the University of Debrecen can purchase their tickets for the next show of "The Lion King" at a discount by registering in advance. For details, feel free to contact the odeon@zenetheatrum email address.

Press Center - BZ