The Ministry of Innovation and Technology of Hungary has hosted an online scientific conference on the current status of R&D related to the protection from the spread of COVID-19. At the conference, Rector Zoltán Szilvássy gave a presentation on the developments currently underway at the UD.
"Upon the appearance of coronavirus cases in Hungary, restrictive measures were introduced and, at the same time, we started to figure out how the Hungarian academic community could contribute to monitoring the spread of the virus and to minimalizing its negative effects. If we can continue to maintain the degree of commitment and precision to cooperate that has been displayed by representatives of Hungarian scientific and academic life for the past two months, we can be sure of a continuous development," said László Palkovics in his welcoming address delivered at the opening of the online scientific conference held on May 21.



Hungary's Minister for Innovation and Technology added that, during the course of the past five months, the ministry had received more than 100 project proposals, out of which 52 were already in the decision preparation phase, 24 had been already supported, while 12 more were to enter the decision phase soon.

"Due to constraints of time, we had to opt for a shorter evaluation process than what we would routinely follow, just to make sure that we do not lose any of the projects. These are now channeled into the traditional system of evaluating applications, and NKFIH [NRDI National Research, Development and Innovation Office] is currently establishing a separate coronavirus research budget within the Hungarian innovation fund," said László Palkovics.

At the scientific symposium, the heads of universities and research institutes presented the currently running projects that focus on analyzing the spread, the control and the management of the epidemic, in which mathematicians and epidemiologists worked together. They also gave talks on projects related to studying the virus as well as the research efforts for the development of various types of medical equipment aiming at prevention and treatment, for example, ventilators and various therapeutic products, including, plasma-based and anti-viral solutions.

The research that is underway at the University of Debrecen was presented by Rector Zoltán Szilvássy. The head of the university highlighted that the focus of institutional research and development at present was the development of a vaccine, on which an agreement between the university and Nemzeti Népegészségügyi Központ [National Public Health Center] had been signed recently.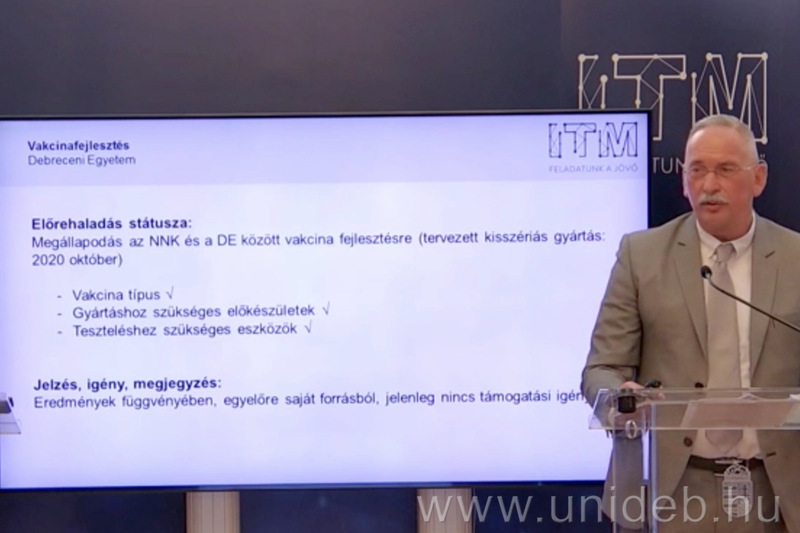 "The objective of this cooperation is to develop the vaccine for coronavirus. There is a consensus among us concerning the type of the vaccine, and the technological components required for the production of the vaccine are readily available. For several decades, the University of Debrecen has been in close contact with the only Hungarian-owned vaccine production plant. Our self-designed cell line will serve as the basis for the new vaccine development. We believe that, by October 2020, we will have reached a stage when we will be able to conduct pre-clinical tests in small-scale production on sensitive species," said Zoltán Szilvássy.

UD's Rector also mentioned other research efforts undertaken at the university, including a joint project carried out with Meditop Pharmaceutical Ltd., which aims at launching the domestic production of hydroxyl-chloroquine as well as the development of a broad-spectrum preventive antiviral drug.

In his closing address, Minister of State for Higher Education, Innovation and Vocational Education József Bódis underlined that it was made clear again that, when prompted by a pandemic, we could quickly get down to cooperate in times of trouble, work together and come up with impressive results in order to achieve our essential aims and objectives.

The Minister of State from the Ministry of Innovation and Technology added that, so far, the most effective means for protecting ourselves in addition to wearing face masks and regularly washing our hands had been the restrictive measures introduced and our due compliance with them, which was a clear-cut indication of serious discipline.

Press Office