At a round table discussion hosted by the Faculty of Economics of the University of Debrecen for master's students in sports economics, Yacov Hadas-Handelsman talked about iconic Olympian athletes, the technological achievements and economic implications of sport, as well as the importance of sports diplomacy.
The Ambassador of the State of Israel to Budapest arrived in Debrecen on Tuesday for the opening of the Game Changers exhibition illustrating Hungarian and Israeli sports relations. The exhibition commemorates Hungarian athletes of Jewish descent, who were also remembered by Yacov Hadas-Handelsman in an unorthodox class held for students of the Faculty of Economics.
Together with Péter Kőmíves, Assistant Professor of the Department of Economic Law at the Faculty of economics, and István Iglói-Nagy, Head of the Sports Diplomacy Department of the Ministry of Foreign Affairs and Trade, the participants of a round-table discussion in English recalled the lives and careers of such legendary athletes as the first Hungarian Olympic champion Alfréd Hajós, ice skater Lili Kronberg, (foil) fencer Ilona Elek and footballer Béla Guttmann.

"As sport connects different nations, we can say that it functions as a common language. Thus, it is extremely important in our lives. In addition, the field of sports industry is an area that attracts more and more money: just think of the broadcasting rights of sports events or merchandising income. It is also constantly developing, with modern technologies and high-tech products appearing in it one after the other. In fact, the special shoes used for running as well as smart watches and special jerseys also belong here," said the ambassador.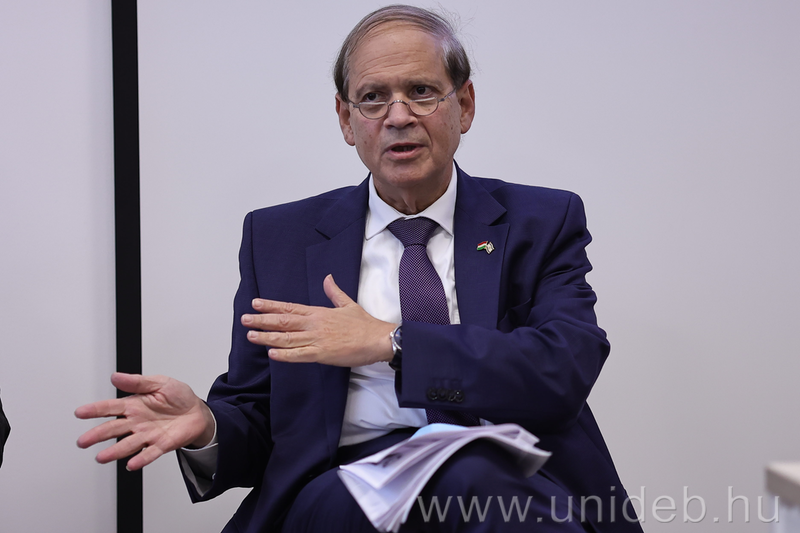 Regarding the sports facilities in Hungary, Yacov Hadas-Handelsman recalled, for example, the FINA World Championships held in Budapest this past summer, where the Israeli athletes were already amazed by the state-of-the-art swimming pool designated as the training venue. As regards domestic sports events and facilities, István Iglói-Nagy highlighted that sports had always been a strategic area for Hungary. He also reminded the students present that the incredibly outstanding result that the number of Hungarian Olympic gold medals already exceeded 180.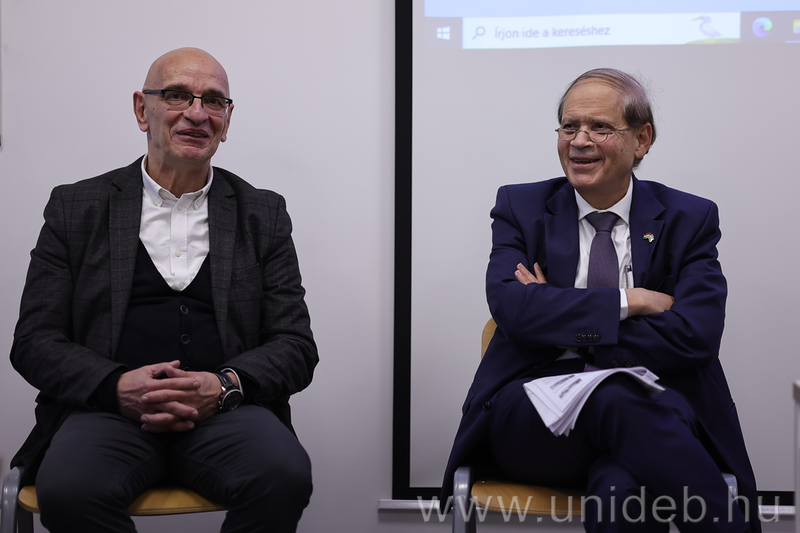 At the end of the discussion, the Head of the Department of Sports Diplomacy of the Ministry of Foreign Affairs and Trade illustrated with photos many a memorable moment of Hungarian sports diplomacy from recent years. Among other things, he showed footage of a visit to the statue of László Kubala in Barcelona, the Hungarian Olympic champions who returned to the site of the Seoul Olympics after 30 years, the graduation ceremony of the coach of the Ethiopian running team in Budapest, the Hungarian program of the world-famous cyclists Alberto Contador and Ivan Basso, and the teqball table that commemorates the 16 gold, 10 silver and 16 bronze medals won at the Helsinki Olympics.

In connection with teqball, István Iglói-Nagy emphasized that he and his colleagues would use whatever means to help introduce the 100% Hungarian-developed branch of sports to the world, doing everything they can to make it one of the Olympic sports.

Press Center - TH