Visiting our institution upon the invitation issued by IEAS (Institute of English and American Studies) His Excellency Ronan Gargan, the Ambassador of Ireland to Hungary, delivered a presentation entitled "Ireland and the European Union 1973-2023" at the University of Debrecen on Wednesday.
Ireland accessed the European Community formally 50 years ago, on January 1, 1973, after 83% of the Irish voted to join.
"This half-century milestone represents an opportunity for us to reflect on the achievements of Ireland's membership within the European Union (EU) and what it means to be Irish and European at the same time," said Ronan Gargan at the opening of his talk given in the venue called Sziget [Island].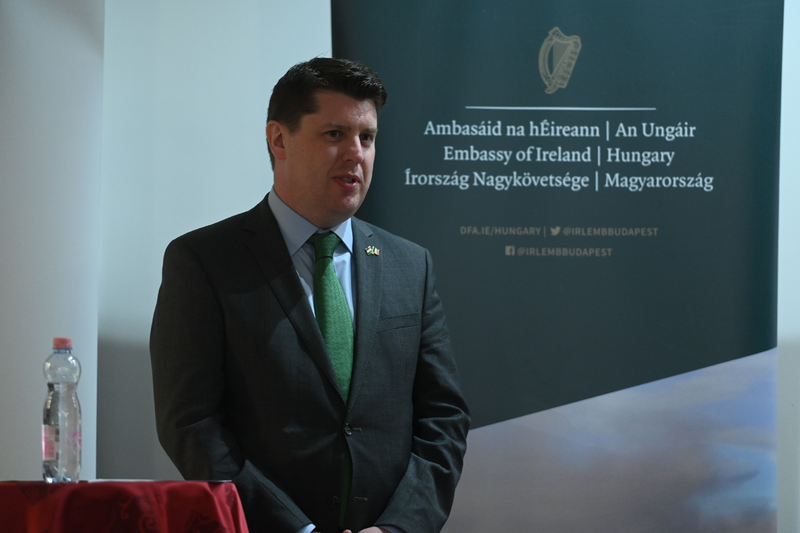 In his presentation, the Ambassador noted the positive impact of EU membership on the Irish economy and society in general, talked about Brexit and the strategic initiative Global Ireland 2025, of which an important element was Ireland's membership of the UN Security Council in 2021-2022. Furthermore, he also discussed the steps and strategic plans of the Irish government concerning the challenges of climate change.

Following the lecture part of the presentation, Ronan Gargan officially opened the poster exhibition called "EU 50 – Ireland 1973-2023," displaying the successes and achievements of the past 50 years since accession. The exhibition covers, among other things, the central role of agriculture and fisheries, which is decisive in the life of the Irish, the agri-food industry, which employs almost 170,000 people, and the export of Irish food and drinks, which is worth almost EUR 15 billion per year.

The exhibition also features a tableau dedicated to Ireland's role in the diplomatic life of the European Union and in trade, as well as progress in relation to equal opportunities, training possibilities, working conditions and access to employment.

Yet another feature of the exhibition is the state of education, highlighting that more than 65,000 Irish students and workers have been able to study abroad across Europe since the launch of Erasmus programs in 1987.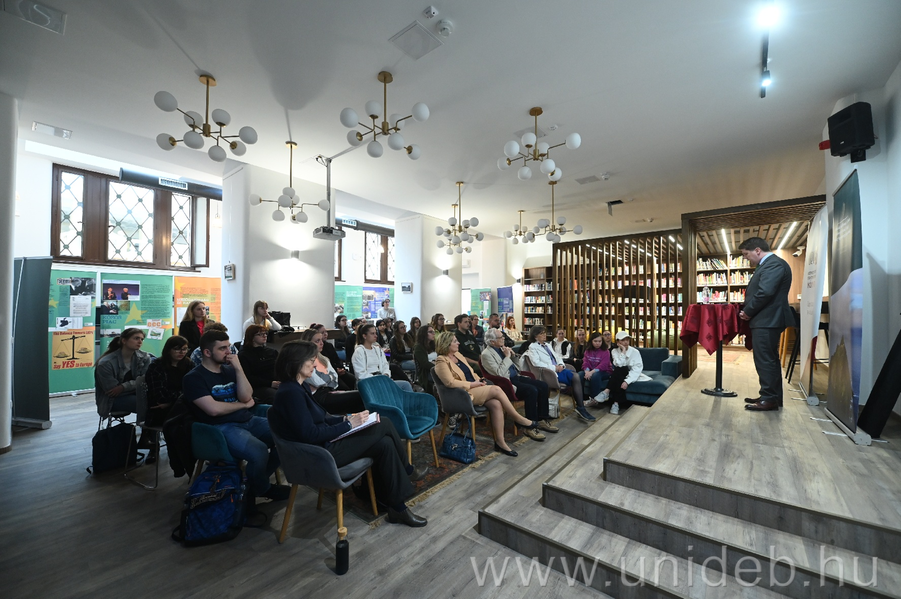 "Today, it would be hard to imagine Ireland without the European Union, just as it would be difficult to imagine the EU without Ireland," concluded the diplomat.
After the talk and the opening of the exhibition, Dean of the Faculty of Humanities Róbert Keményfi met with Ambassador Ronan Gargan, who praised the faculty's work in teaching Irish culture and promised to provide all possible support for continuing the high-quality program in the future.
Press Center - BZs