There will be three major sport events at UD next year. One of the most popular universities in Hungary will host prestigious international competitions.
In 2023, the 3x3 European University Volleyball Championship and the Flying Disc World Trophy will be held in Debrecen. The U17 Soccer European Cup will also be organised in Debrecen. The DEAC sport centre will be one of the venues.

These events will prepare the ground for the 2024 European University Games organised by the universities of Debrecen and Miskolc.

- Owing to the achievements of our athletes and our sport science programmes and research, we have been present on the international scene for quite some time, but now we also have a huge responsibility as organisers. University students will come here from all around the world. They will familiarize themselves with the University of Debrecen and with Debrecen, the city itself, and they may even return later in the framework of international programmes. The preparations  for the events started in 2019. The requirements of the international associations must be met in terms of venues, accommodation, volunteers, and accompanying programmes. We work together with the Hungarian and international soccer, volleyball and flying disc associations in order to ensure that the events go down well. DEAC and the Sport Centre support us in these efforts – said László Balogh, director of the  Institute for Sport Sciences.


The promotion of next year's Flying Disc World Trophy is also underway. On 28 October, DEAC athletes performed a flashmob in the main square of Debrecen. About 500 students of local primary and high schools participated, and passers-by also joined in.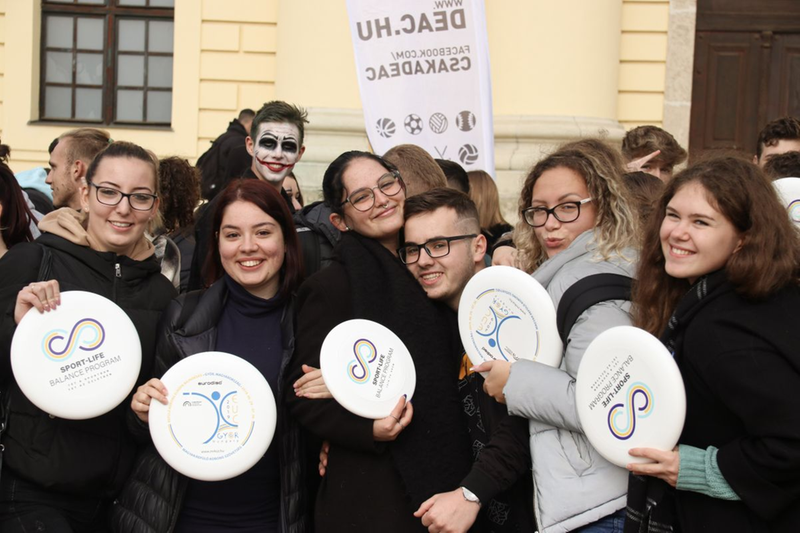 The flashmob was attended by the ambassador of the Flying Disc World Trophy, Attila Mizsér, Olympic champion pentathlon athlete. He pointed out that it was very important that such high-profile events rely on the support of the local community.
- One of our tools is the Sport-Life Balance programme, which provides opportunities for the business and the sport sectors to cooperate. Within the framework of the programme, we seek to involve local businesses in the organisation of this prestigious sports event – added Attila Mizsér.


Árpád Rácz, head of the flying disc section of DEAC believes that the event was successful, and the message about next year's sports event had reached the public.
- It was inspiring to feel the support of the students of local schools. Of course, it is only the beginning. We will hold further events in the future until the world cup – pointed out Árpád Rácz.
Press Center - NyD