Graduating students of the University of Debrecen received their diplomas this year in Nagyerdei Stadion. The celebration of the completion of their studies took place in front of a crowd of several thousand spectators on the arena floor of the state-of-the-art sports facility of Debrecen.
This graduation ceremony was truly unique in the history of our institution as well as in the annals of Hungarian higher education.

Due to the coronavirus pandemic, the traditional graduation ceremonies of the University of Debrecen could not be held at the end of the past academic year. Therefore, instead of attending the usual separate events of the individual faculties, the graduates from the fourteen faculties of the University of Debrecen together received their diplomas in the framework of rather unorthodox institutional ceremonies in Nagyerdei Stadion on the first two Saturdays of July. The first of these two events was held on July 4, where graduates from five faculties celebrated the conclusion of their university years.


In his speech, Zoltán Szilvássy, Rector of the University of Debrecen, underlined that the students arrived at the highest and most noble point in their career so far, where their achievements proved that they could continue to follow an important path chosen by themselves for the good of society in general.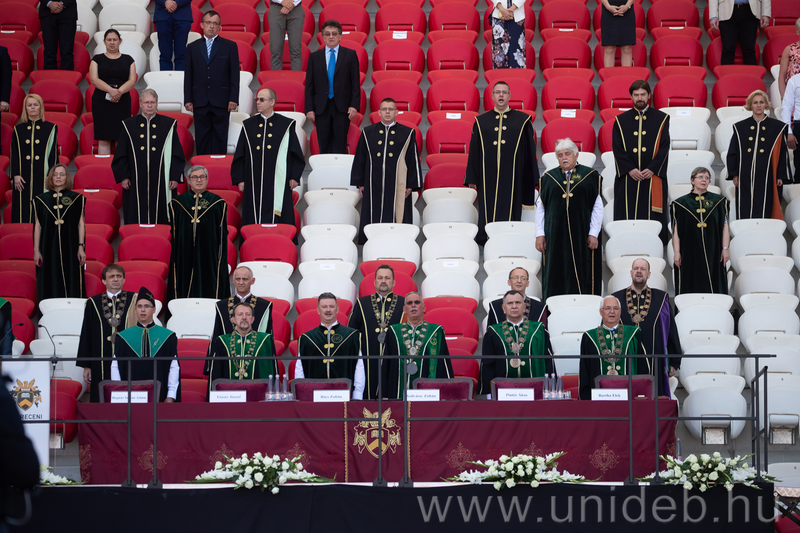 "This year's graduates can receive a diploma from a five-hundred-year-old university. The peculiar form of intelligence with which they can adapt to changing circumstances has been given to them at this university in a rather special package. Never, since its inception in 1538, even in the hardest of historical times, has this institution closed its gates for a single day, and this truly salient spirit of endurance inherent in Debrecen has been attained by each and every student now by receiving their diplomas," said the rector. The head of the university also added that our institution was indeed in an exceptional situation as very few other universities could afford to award their diplomas in a personal framework like ours right in the middle of the pandemic.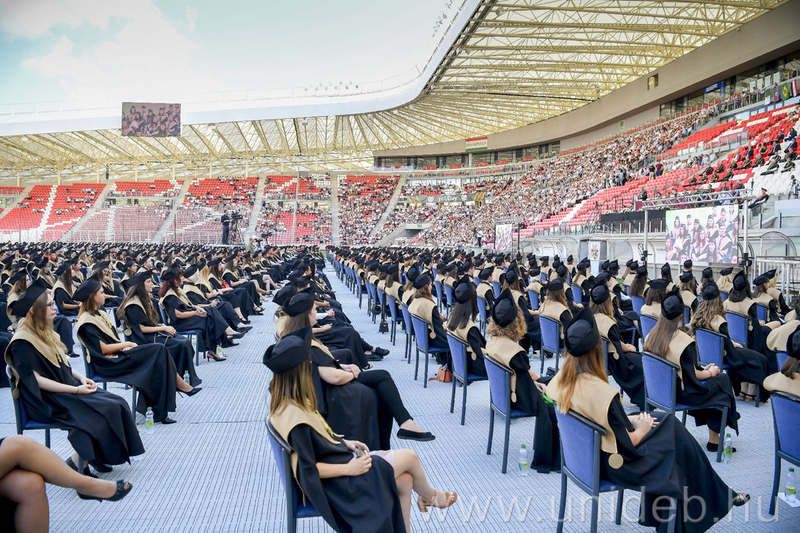 On a strictly voluntary basis, about 1,100 students out of a total of more than 1,870 graduates from the Faculty of Humanities, the Faculty of Economics and Business, the Faculty of Agricultural and Food Sciences and Environmental Management, the Faculty of Science and Technology, and the Faculty of Music, as well as approximately 8,000 of their friends and relatives attended the special graduation ceremony. At the event, two students, one form the Hungarian-language program and another one from the English-language program, on behalf of each faculty came forward for a symbolic reception of everybody else's diplomas from the representatives of the university leadership.

Altogether, there were about a total of twenty thousand participants present at the two graduation ceremonies held by the University of Debrecen in Nagyerdei Stadion on July 4 and 11, including 2,500 graduates from fourteen faculties and their friends and relatives invited. The video coverage of the July 4 graduation ceremony is available for viewing at the following link:

https://www.youtube.com/watch?v=t1LAWApEr_0&feature=youtu.be

Press Office