The University of Debrecen has made about 300 dormitory places available to students, teachers and others fleeing Carpathian Ruthenia. People asking for help have been arriving since Friday evening. In the meantime, the Student Council has launched a donation campaign.
On Monday, Zoltán Bács, Chancellor of UD visited one of the dormitories of the university where refugees were staying. The head of the university explained that UD offered help to those in need as early as on the very first day of the war.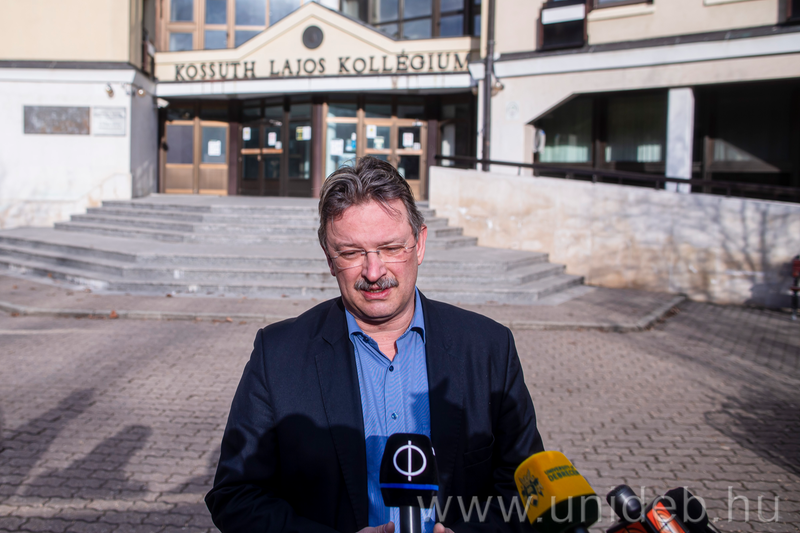 – Actually, the University of Debrecen functions as a bridge to Transylvania and Carpathian Ruthenia. Cooperation with ethnic Hungarians and the neighbouring countries, including their universities and cultural organisations, has been an integral part of our everyday operation. First, we are trying to find accommodation for the teachers and students of the Berehove-based Ferenc Rákóczi Transcarpathian Hungarian College of Higher Education, but we also have many ethnic Hungarian and Ukrainian students, whose families we are also willing to help - pointed out Zoltán Bács.

The Chancellor added that there were third-country nationals studying in Ukraine who had also turned to UD for help, and the university, in cooperation with the Coordinating Center for International Education, was making efforts to temporarily accommodate them until they find a way to return to their respective home countries.

According to Imre Csiszár, director of DE Dormitories, currently 20-25 adults and children from Ukraine are staying at the dormitories of UD, but their number is changing on a daily basis.
-  Some of these people spend only one night at one of our dormitories before moving on to another part of Hungary. Mainly ethnic Hungarians from Carpathian Ruthenia are staying at our dormitories, who cover their own needs. We can accommodate 200 people at our dormitories in Debrecen, and a total of 100 in Nyíregyháza, Szolnok and Hajbúböszörmény - explained director Csiszár.

Understandably, the refugees are reluctant to talk about their ordeal, their homes and work they have left behind. One of them said that the world had turned upside down, but they were hopeful that things would settle down soon, and also expressed their gratitude to UD for the safe environment where they could wait for a positive turn.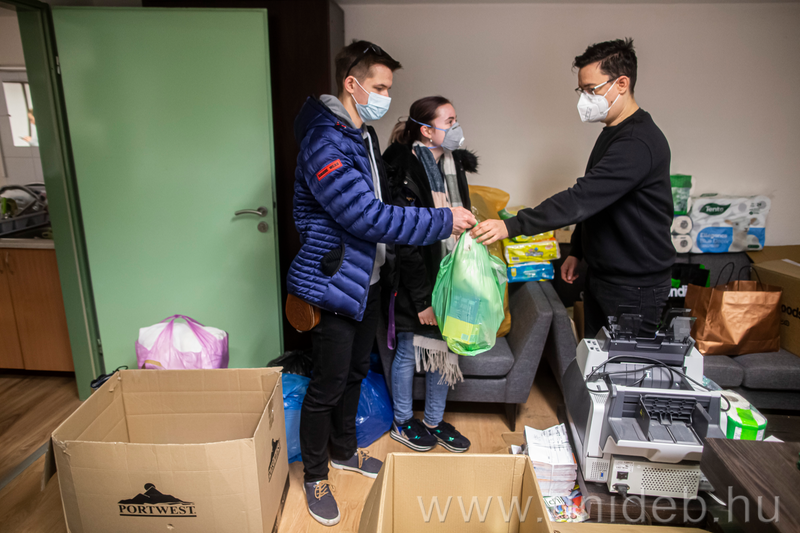 In addition to accommodation, the university also provides refugees with food and practical items. The Student Council of UD launched a donation campaign on Monday. Donations are welcome between 10am and 3pm on weekdays. The organisers expect mainly non-perishable food, personal care products, clothes, and other items that may be useful for the refugees while they stay in Hungary.
- Donations can be made at 7 locations on each campus, that is, in Debrecen, Nyíregyháza and Szolnok. We are proud of our great students: Two of the collection points cannot accept any more donations. Besides our students, all citizens of Debrecen, anyone who can afford to, are encouraged to help and donate - said István Csont, president of the Student Council.
The products collected will be transferred to the Hungarian Reformed Church Aid, which will deliver the goods to ethnic Hungarians from Transcarpathia. On Tuesday morning, DEAC, the university's sports club will also join the campaign. They will collect donations at the Dóczy street sports centre on weekdays, between 9am and 3pm. The Special Medical Team of the University of Debrecen (DEKOM) will also take part in delivering the collected goods to those in need.
 
Collection points:

Debrecen, Böszörményi Street Campus, MÉK HÖK office, MÉK Building A, opposite the main reception
Debrecen, Egyetem Square Campus, DEHÖK office, Kossuth Lajos dormitory II., basement
Debrecen, Clinics Campus, Medical HÖK office, Markusovszky Lajos dormitory III.
Debrecen, Kassai Street Campus, ÁJK HÖK office, ÁJK faculty building, C/214
Hajdúböszörmény Campus, reception of the GYGYK dormitory, 4220 Hajdúböszörmény, Désány István utca 1-9.
Nyíregyháza Campus, EK dormitory reception, 4400 Nyíregyháza, Bethlen Gábor utca 58-60.
Szolnok Campus, reception of the lecture building, 5000 Szolnok Tiszaligeti sétány 14.
University of Debrecen, Dóczy Street Sports Centre – Business office
 
Press Office – PKZs.