The representatives of Daimler, one of the world's biggest bus manufacturer companies, visited the UD. The manufacturer discussed the opportunities of cooperation with their partner, Inter Traction Electrics Ltd., subsidiary of ITK holding. They met with the leaders of the UD.
Rector Zoltán Szilvássy and Chancellor Zoltán Bács hosted Roman Biondi, sales manager of Daimler Buses, Bernd Mack, head of customer service, parts and used vehicles and György Kossa, President and CEO of ITK Holding Ltd. After visiting the Main building, the Rector presented the education and research profile of the University of Debrecen, emphasising the international educational and corporate relations of the institution.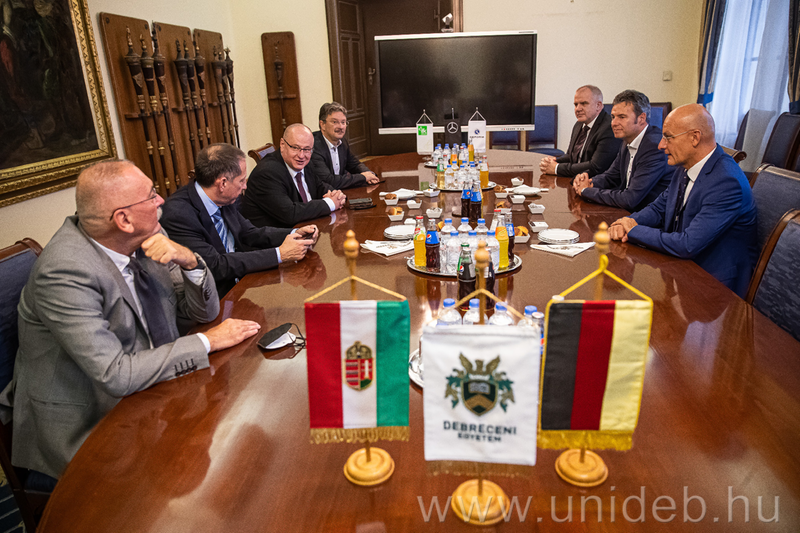 - Using renewable energy resources has been the centre of developments in the motor industry for years. According to the multidisciplinary character of the University of Debrecen, many research projects are in progress with combining several fields of science, led by the Faculty of Engineering, the results of which can be used in the motor industry, including bus manufacturing – Zoltán Szilvássy said.

Inter Traction Electrics Ltd. – subsidiary of the ITK Holding Ltd. – and the University of Debrecen signed a sponsorship agreement of one hundred million forints in September. The company group conduces to ensure the improvement and operation of the technical training of the region and besides that, the company group is also involved in supporting the university professors. Inter Traction Electrics Ltd., which deals with vehicle design, vehicle development and vehicle manufacturing, has been for years a partner of Daimler Bus, manufacturer of the Mercedes-Benz and Setra buses, among others.

Cooperation between the companies is a mutually beneficial and well-functioning work relation which offers many business opportunities by adding significant domestic value, producing real Hungarian products in the field of bus manufacturing – said György Kossa.


Press Office