The organising committee responsible for the events of the 2024 European University Games (EUG) that will take place in Debrecen held its meeting in Mád. At the event specific organisational tasks and their owners were identified, and the preparation of the feasibility study began. The Games will be preceded by high-level international competitions at the University of Debrecen next year.
Two years from now, the European University Games will be held in Debrecen and Miskolc. The University of Debrecen will be one of the hosts of the event. Around 6,000 athletes and team members will arrive in Debrecen for the international sport event, which may be compared to the Olympic Games. As László Balogh, head of the Institute for Sport Sciences of UD informed hirek.unideb.hu, the preparation of the Games are going according to plan.


- We are working closely together with Miskolc and the University of Miskolc, as well as with the Hungarian and European university sport associations in order to make sure that everything will be ready by the day of the opening ceremony of this high-profile sport event. The organisational committee of Debrecen held a meeting to make decisions about organisational details in Mád on 2 June. Now all staff members know their tasks, and the main directions regarding the event have also been identified – explained the head of the Institute for Sport Sciences.

UD will start promoting the 2024 EUG next year through organising a series of international sport events: According to plan, the Hungarian University and College Championship (MEFOB) festival will start late April, and will be hosted by UD this time. Subject to the approval of the Hungarian University and College Sport Association, UD will organise national finals in seven sports, for which 1,500 athletes and team members will arrive in Debrecen. The University of Debrecen will organise the 3X3 University Basketball European Championship with the participation of 20 men's and 20 women's team early July. The basketball court and the stands will be set up in Egyetem Square, in front of the Main Building. The Frisbee University World Championship will take place in mid-July with the participation of 16 teams.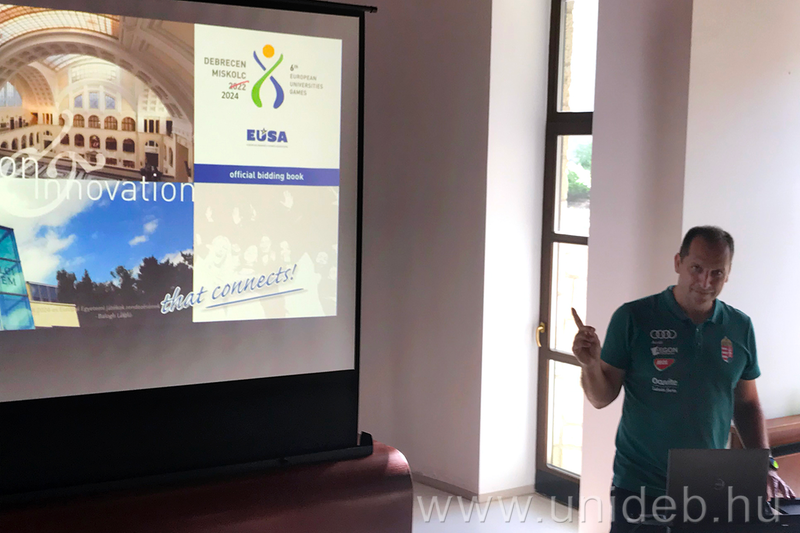 - We can promote the university and the town as well at these events. Those who would like to visit an international sport event next summer should keep the games in Debrecen in mind. The preparation and coordination of these events may reveal shortcomings and mistakes that may be avoided during the organisation of the 2024 games. We have also developed a website and an application to promote EUG – the head of the Institute added.

This year the European University Games will be held in Lodz, Poland. László Balogh said that fifty delegates from UD would travel to Lodz in order to identify best practices regarding the organisation of the games. At the closing event, which will resemble that of the Olympic Games, the Polish organisers will officially pass the torch to the Hungarian organising team.

Press Centre - BZ