During his visit to Debrecen, David Pressman, the new US ambassador to Hungary was informed about the space research programme of the University of Debrecen. Ambassador Pressman was welcomed by László Csernoch, vice rector for scientific affairs.
Ambassador Pressman emphasized the importance of the R&D sector in his speech he gave on Tuesday. He pointed out that international partnership programmes and knowledge exchange in the field of R&D define directions for future development. Mr. Pressman also mentioned that cooperation between the University of Debrecen and the Air Force Office of Scientific Research (AFOSR) is expected to be fruitful.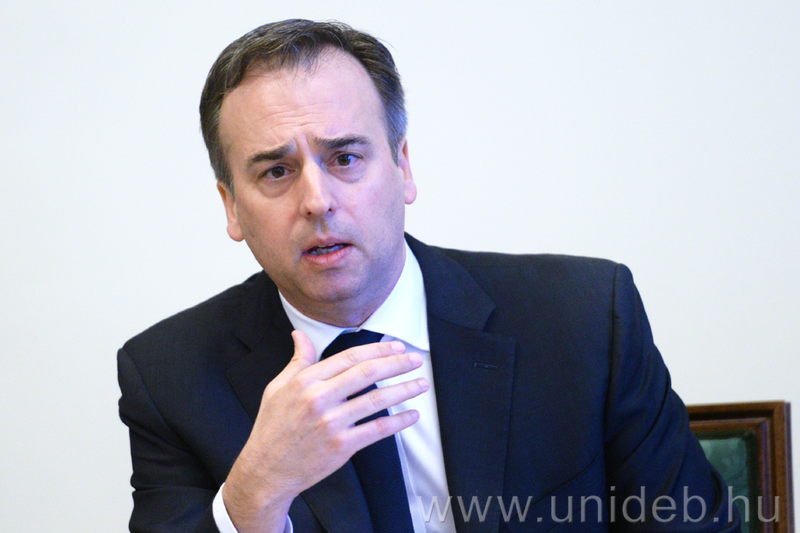 - The work and results of the space research programme of UD may be useful for AFOSR. The Office coordinates and finances basic research projects relating to aviation and space travel that the US Air Force can use and utilise. AFOSR allows researchers like the experts working at UD to join international projects and share knowledge – vice rector Csernoch told hirek.unideb.hu.


Ambassador Pressman also met teachers and students of the Institute of English and American Studies.

At the event, Major Grant Thomas, head of the space research programme of AFOSR,  outlined the operation of the organization and its main research areas.


- The Office coordinates research and innovation in seven fields of science, including life and natural sciences and nanotechnology. We seek to involve as many researchers and developers as possible into our projects – pointed out Major Thomas.

During their stay, the representatives of AFOSR and the US embassy were introduced to the space research programme of UD. The working groups of DE SPACE dealing with radio physics, space physiology, space nutrition, space medicine and diagnostics, climate change, and isotopes and their application presented their most recent research results. The Faculty of Technology and Science and the Faculty of Informatics also gave an account of their respective results related to space research.  
Press Centre