The UD won the Breeding Award of the National Association of Hungarian Horse Breeders in the XXVIII. Great Plain Livestock and Farmer Days. At the largest animal breeding show in the country, the Gidran mare named DE Schemer Gidran I-54 (Serény) won the breed competition.
At the Animal Husbandry and Agriculture Days held in Hódmezővásárhely, several horses of the Farm and Regional Research Institute of Debrecen (FRRID), Institutes for Agricultural Research and Educational Farm (IAREF), University of Debrecen received professional awards.

The review of the mares show born in 2009 or before was won by Schemer I-54 (Serény) of the FRRID IAREF UD, and the mare named Gidran Schemer-23 (Boróka) won third prize. Of the mares born between 2014 and 2018, the second prize went to the horse named Gidran XXX-38 (Orsó), while the third was the mare named Deva Gidran I-28 (Nádszál) bred by FRRID. The horses exhibited by the Farm and Regional Research Institute of Debrecen, the professional programme of the students participating in the equestrian training of the FAFSEM, and last but not least the work of the equestrian instructor preparing for the presentation contributed to the award – Professor emeritus Sándor Mihók told hirek.unideb.hu.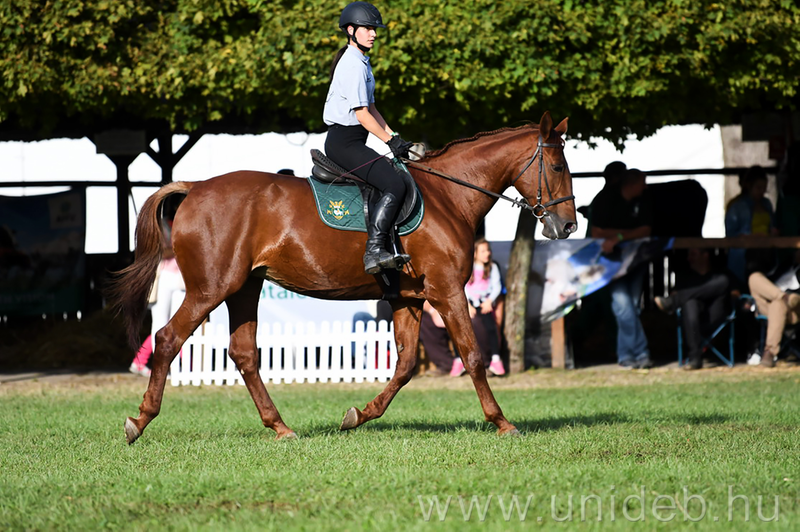 Students of the horse breeding engineer and stud management trainings at FAFSEM, UD presented carousel riding on the professional day, in the Gidran breed gala program.

- The essence of the complex series of exercises is that the riders perform dressage elements moving together to music in different formations. The programme requires riders and horses with similar skills. This year, eight of our students participated in this performance. It is a great pleasure for us that several of our first-year students took part in the task. In addition, two of our young students gave an exhibition programme with a university and a privately owned drought mare at the professional event, and their riding was awarded a special prize by the National Association for Hungarian Drought Horse Breeding. Our students met the expectations perfectly - explained Sándor Mihók.

The three-day event is an important part of the practical training of participants in the equestrian training of FAFSEM, UD.

- The Gidran breed of the University is an integral part of the Hungarian gene conservation programme, and the country's most significant animal husbandry exhibition provides a good opportunity to present the Gidran gene protection programme at the University. Even at such exhibitions, it becomes clear that the gene bank holdings are not living museums, but can be used, and happen to be well integrated into education – the professor emeritus emphasized.


Currently, 20 horses participate in the equestrian training of the University of Debrecen, and together with them almost 30 individuals participate in the gene conservation program.

Press office