Two researchers from UD have been involved in an international initiative (COST), which aims to improve the quality of life of patients who suffer from osteoarthritis by coordinating European research programmes and speeding up the implementation of technological developments and research results into clinical practice. Researchers from 23 countries participate in the four-year-long programme.
Osteoarthritis (OA) is one of the most common joint disorders, which primarily affects the elderly. According to estimates, 10-15 percent of over-60s live with this condition, and one third of the patients live the rest of their lives with serious disability. In the EU, the occurrence of OA is the lowest in Romania  (2.8 %), and the highest in Hungary (18.3%), but the actual number of people living with this disease is most probably higher. Due to demographic changes, an aging society and risk factors like obesity, the occurrence of OA is expected to grow. According to experts, younger generations are increasingly affected, which can be attributed to the lack of physical exercise, the growing frequency of metabolic syndrome, and sports and trauma injuries.



- Currently, there is no treatment that could slow down or stop the deformation of joint tissues. The therapy we apply now is based on mitigating the symptoms and giving patients pain killers and anti-inflammatory pills. However, there are promising treatment plans, like cell therapy based on the use of mesenchymal stem cells or biological therapies targeting specific signal transduction pathways, but these are in clinical trial phase yet. In the case of end-stage patients, our only option is prosthetic implant. Interestingly, 20 percent of the patients who had knee replacement surgery still have chronic pain – said Csaba Matta, senior lecturer of the Department of Anatomy, Histology and Embryology.
Csaba Matta added that although there were prestigious international organisations that focus on musculoskeletal diseases, research projects dealing with OA have not been coordinated in Europe yet.
The recently launched COST initiative will coordinate and support European research programmes, and will facilitate the translation of results into practice. It will also provide a platform for young researchers where they can search for career opportunities in this field. The initiative is led by Corné Baatenburg de Jong (the Netherlands, ReumaNederland).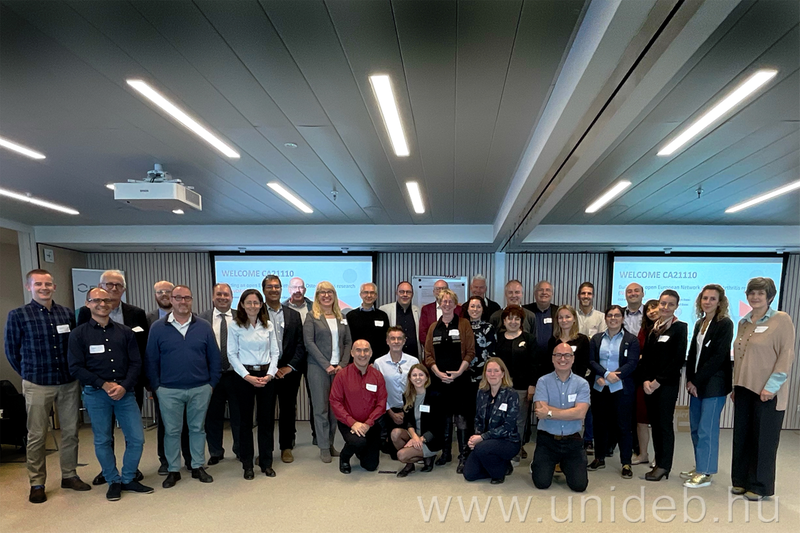 In the Management Committee of the initiative that includes 23 member countries Hungary, and in particular UD, is represented by senior lecturer Csaba Matta, Roland Takács, both from the Department, and Péter Bálint, head of department at the National Institute of Rheumatology and Physiotherapy.
-    The initiative aims to facilitate cooperation and knowledge exchange, to help implement research findings into practice, and to support the development of innovative technologies. The key objective of the initiative is to establish the European Society of Osteoarthrology  (ESOA). There is a great need for a European organisation that coordinates and facilitates interdisciplinary and transdisciplinary research, technological development, and the use of research findings in clinical practice, in order to improve the quality of life of patients living with OA. The initiative also aims to schedule joint pre-clinical and clinical research at a European level –said Csaba Matta.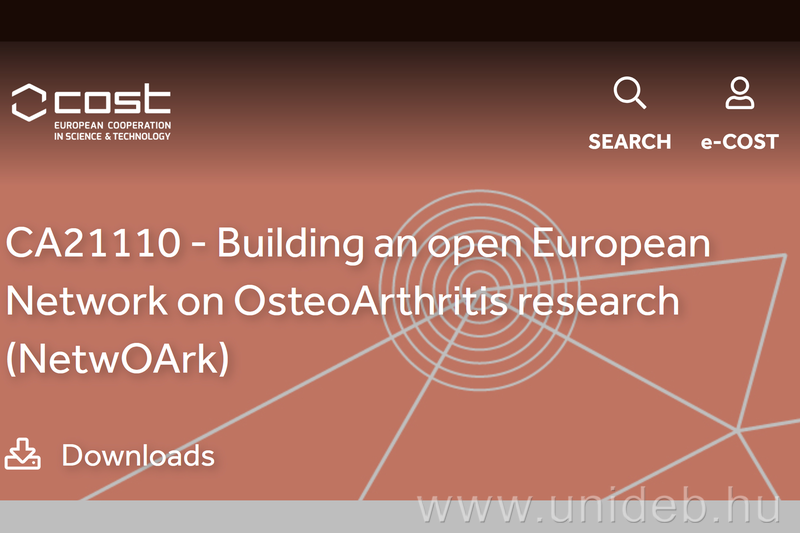 The COST initiative plans to achieve its goals within four years. More information on the initiative entitled  "CA21110 - Building an open European Network on OsteoArthritis research – netwOArk" is available at www.cost.eu.
Press Centre - CzA