The University of Debrecen has recently become a full member of the European Reference Network of Rare Liver Diseases (ERN RARE-LIVER). Mária Papp, Director of UD's Gastroenterology Clinic, which provides care and treatment for patients with liver diseases, received the certificate of membership at the beginning of September from Ansgar W. Lohse, a representative of University Medical Centre Hamburg-Eppendorf and the coordinator of the ERN RARE-LIVER program. Membership in this consortium enables the Debrecen institution to use the most up-to-date international professional recommendations in the diagnosis and treatment of patients suffering from rare liver diseases.
The chief objective of the European Reference Network of Rare Liver Diseases (ERN RARE-LIVER) is to improve the quality of patient care by coordinating highly acclaimed specialists in this field and to expand the knowledge available through their scientific and academic activities. Therefore, the reference network has been formed from European pediatric and adult hepatology expert centers and, at present, it comprises more than 300 hospitals and 900 expert groups. Currently, it has as many as 53 full and 10 associate members as well as 14 cooperating partners.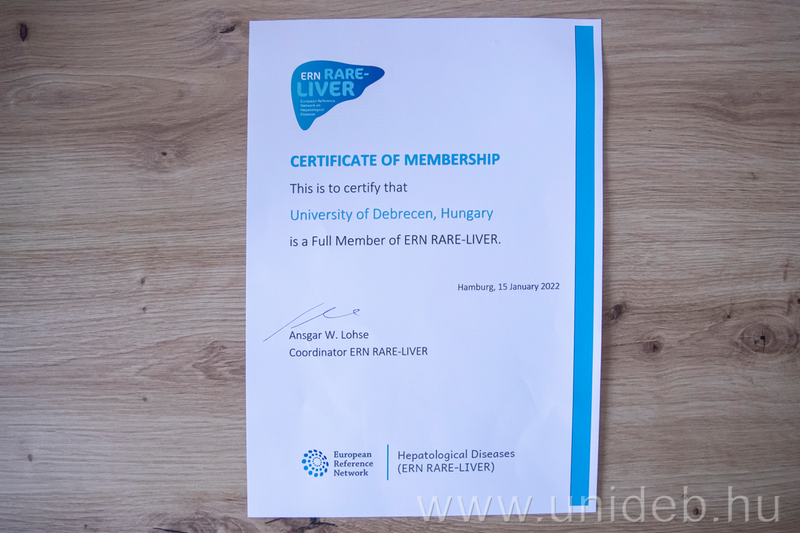 The University of Debrecen has been a participant of the network as an associate member since 2019 and as a full member since January 2022. Patients with acute and chronic liver problems are cared for and treated at our Gastroenterology Clinic. Among similar centers working in the same field, this institution has the largest patient turnover in Hungary.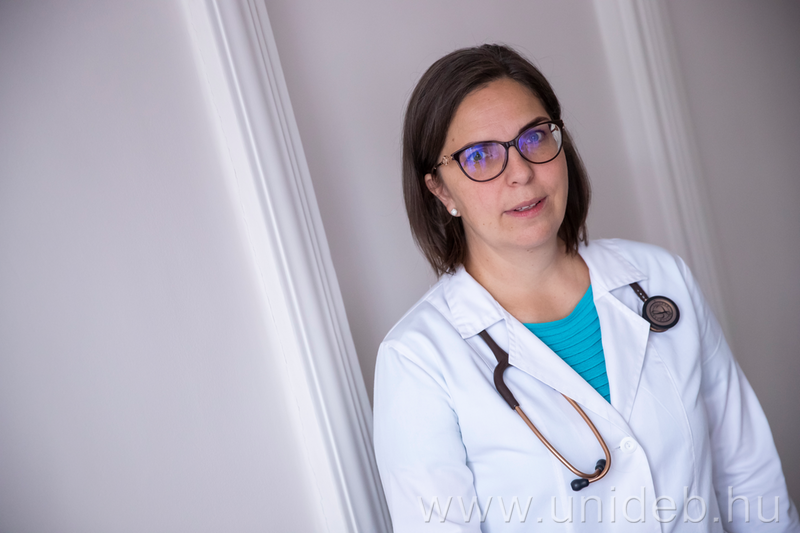 "Following a multi-stage application and audit process that had started in the fall of 2020, the accreditation committee declared that the University of Debrecen and the Clinical Center deserve full membership in the European reference network because of our quality education, well-organized and high-quality patient care and outstanding hepatology research. Since at each of our consortium partners, the care and treatment of patients with liver diseases is conducted according to a uniform structure and approach, we can also apply the latest European professional recommendations and guidelines in everyday practice at our clinic. Thanks to this partnership, patients suffering from rare liver diseases will receive the exact same care in our institution as they would anywhere else in Europe," said Mária Papp, Director of the Gastroenterology Clinic of UD's Clinical Center. 


Overall, the network covers 34 different kinds of pathologies. Network members treat, among others, autoimmune, structural (for example, vascular and polycystic) and pregnancy-related liver diseases (for example, HELLP syndrome or acute fatty liver during pregnancy), as well as rare acute liver failure. At the Gastroenterology Clinic, hundreds of patients suffering from rare liver diseases are cared for, while one of the special treatments provided is for patients with autoimmune liver diseases. For the cases of rare diseases, there is usually little individual experience and considerably less reliable research findings available with regard to treatment. This is the reason why the exchange of experience and regular consultation between international specialists are especially important for applying the right therapy, which is also supported by the clinical patient data management system (CPMS).

"As we normally treat rare diseases, the combined knowledge available in the network is extremely decisive. During the examination phase and during the course of treatment, there may be difficulties that require a specialists' panel consultation. CPMS allows the patient's physicians to discuss difficult-to-diagnose or difficult-to-treat cases with other specialists and to follow the progression of the disease in the case of formerly diagnosed patients. The system also provides an opportunity for conducting written and/or video consultations, the data of which can also be used for research purposes with the consent of the patients and in the relevant efforts to help fill the knowledge gap," said the professor of the University of Debrecen.

The reference network also provides opportunities for teaching staff and young specialists to develop their practical knowledge while participating in clinical exchange programs. The chief aspiration of the consortium is to improve both the individual knowledge of specialists and the collective knowledge of the entire hepatology community. Thanks to this, there would be more and more clinicians with appropriate experience and expertise working in the field of treating rare liver diseases.

Press Center - CzA