The Institute of German Studies at the Faculty of Humanities of the University of Debrecen joined the #GermanPlusDebrecen campaign, launched in May 2023 by Deutsches Kulturforum Debrecen, with short films promoting the German language.
In addition to promoting the language, the videos for students and employees from Debrecen and the region show that in the labour market of Debrecen, knowledge of German is a justified advantage in addition to English, as companies with a German corporate culture are looking for employees with good German language skills, and its cultural mediation role is also of great value.
- In line with the goals of the Debrecen city government and Kulturforum, the Institute of German Studies has been working for decades to train graduates who, thanks to their high level of German language, literature and culture, are able to confidently represent and pass on German language skills, either as teachers or as company employees in various fields," Andrea Horváth, director of the institute, told hirek.unideb.hu.
The short film about the Institute of German Studies describes, among other things, the career opportunities for future graduates in teaching, translating, interpreting, research or business careers, and how the Institute supports the necessary knowledge by providing study trips, scholarships, native language tutors and a modern environment.
Currently, a specialisation in the BA bachelor's programme is specifically designed to prepare students for the corporate work environment, not only by providing theoretical training but also by offering them the opportunity to gain practical experience in different companies and institutions.
 
- And from 2024, a similar bilingual course will be available at master's level, providing in-depth knowledge and experience, called intercultural corporate management," the director said.
 
In another four and a half-minute videos, representatives of Deutsche Telekom IT Solutions, British Telecommunications, National Instruments Hungary and Transcosmos Information Systems LTD briefly explain why cooperation with the Institute of German Studies at the University of Debrecen is important to them.
 
- We will do our best to ensure that the students of Debrecen feel at home in German culture and that they will be able to pass on this cultural and linguistic presence to their students as teachers in schools and to their colleagues in companies," Andrea Horváth said.
The #GermanPlusDebrecen campaign will continue in Debrecen with a jazz concert in August, a language cocktail bar in September and a beer festival in October.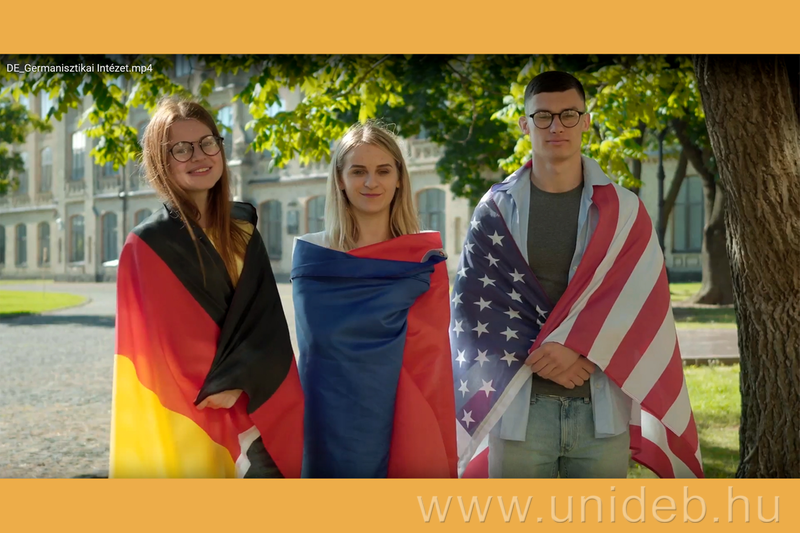 For more information about the programmes of Deutsches Kulturforum Debrecen, visit the association's Facebook page and https://deutsches-kulturforum.hu/, and for more information about the training courses of the Institute of German Studies, visit www.gi.unideb.hu.
Videos promoting the Institute's courses and the German language are available at https://drive.google.com/drive/folders/13w_z76s3MOQZvB3jObLJU02_mfRlMkT….

Press Centre - BZs