A basketball court designed and constructed for the European Universities 3×3 Basketball Championships was tested by students of the University of Debrecen on Tuesday on the square in front of the Main Building. This summer's continental competition will be conducted with the participation of almost 50 teams from as many as 40 different universities in Europe.
One of the coolest and most spectacular sporting events of the year 2023 will be hosted by the University of Debrecen between July 15 and 19.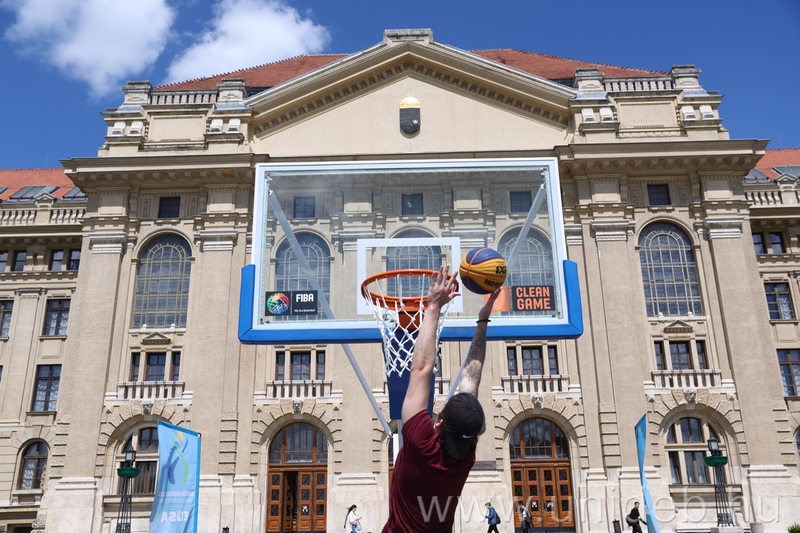 "We expect to accommodate 19 women's and 27 men's teams at the European Universities 3×3 Basketball Championships this year. The participating athletes are expected to come from some of our continent's largest institutions, so we look forward to seeing even American basketball players among them who study abroad in Europe. Apart from the fact that it will certainly be an unforgettable experience for competitors and spectators alike, this event is also an excellent test occasion for the European University Games 2024, which will be hosted jointly with the University of Miskolc and the local governments of the two Hungarian cities," said László Balogh, Chairman of the Organizing Committee and Director of UD's Sports Science Coordination Institute, on Tuesday in front of the Main Building, where one of courts constructed for the European Championships was set up for a few hours.

The court, which is made of special plastic, was tested by students of the University of Debrecen. At the rehearsal, everything went according to the plans, so the competitors in July will also play on two similar identical courts just like the one tested now. As for the spectators, they will be able to cheer on and support their favorites from a 600-seat grandstand.
"We wish to create an arrangement that looks like a "cauldron," with the courts in the middle surrounded by the university's Main Building and the fountain. The venue thus prepared will be fairly spectacular, and we hope that at least as many people will attend the games this year as in previous years, when the competitions were held in the city center downtown. We have been working on preparing the event for months now to make everything dialed in to go smoothly, for which purpose the work of the one hundred volunteers who help with the implementation is really indispensable," said event coordinator Kata Varga.

The games making up the competition, which will be offered for spectators free of charge, will be accompanied by several additional program features both on site and in the nearby recreation area of Nagyerdő [Big Forest]. As regards the winners and their supporters, they will get a chance to celebrate the victory also the day after the competitions end, when Debrecen's ever-popular Campus Fesztivál will be launched.

Press Center-TB