András Székely, a specialist at the University of Debrecen, is the one who has been asked recently by the European Society of Radiology to prepare a CT reporting guide for radiologists on COVID-19 pneumonia in the form of a video.
The working team on education of the European Society of Radiology, Working Group on Undergraduate Education of ESR, prepares teaching material to be posted at the English-language ESR webpage ESR Education on Demand. This is the official training platform for further training provided by the professional organization that has more than 50 thousand registered members, open for resident physicians before their certifying board exams and for radiology specialists who wish to brush up their knowledge. This is also the surface where the video clip by András Székely has been uploaded.


"I have been a member of the Working Group on Undergraduate Education of ESR for about three years now. When I was asked to prepare this video, it was a great privilege and a professional acknowledgment of a kind at the same time. I also must admit that, when I first read the email with the request in it, I felt like I had butterflies in my stomach. The reason for that is simple: in the working group, I have real "big guns" teammates, like Marie-Pierre Revel from France, who is an internationally acclaimed expert in chest radiology," said András Székely, a radiology specialist working at DE Kenézy Gyula Egyetemi Kórház [Kenézy Gyula Teaching Hospital of the University of Debrecen], answering a question posed by hirek.unideb.hu.
On the basis of the presentation prepared by him, anyone interested in this topic can acquire some basic virological knowledge as well as recognize the typical, indeterminate and atypical CT appearances of COVID-19 pneumonia.
"I decided to choose the video format because I preferred not just to give the students a static ppt or a pdf file but a real presentation, using which they can learn about the fine indicators to which they need to pay attention when reporting or interpreting chest examinations," said radiologist András Székely.
He also added that the video published in April was a totally pioneering venture even in professional radiological circles in other countries of Europe. Having seen the findings already available by that time, radiologists knew that COVID-19 would displays typical CT signs or indications but, without the proper amount of experience, there was a significant degree of uncertainty about the morphological discrepancies.


"As there was very little radiological material around for dissemination and further training, it was necessary to come up with a comprehensive tool that could provide the appropriate guidelines in real-life circumstances, relying on the internationally available data and publications. To sum up; this is the sort of material that can be located in a printout of the pdf format next to the given physician even during the course of reporting or interpreting chest examination images or templates. In addition, general practitioners can also use this as a "cheat sheet" when they want to decide whether the signs in the images coming up on the CT could correspond to COVID-19 pneumonia or not," said András Székely.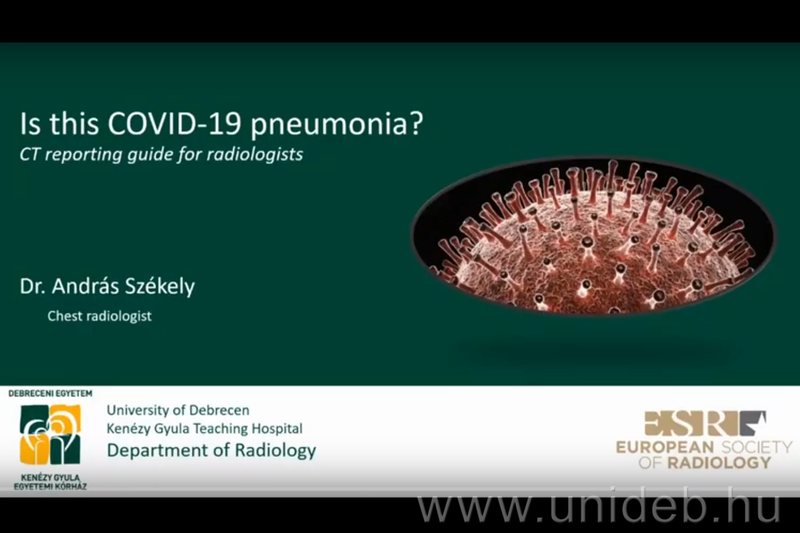 The video has been compiled on the basis of at least 40 different articles published in scientific periodicals as well as chest images of three patients treated with COVID-19 pneumonia in Kenézy Gyula Teaching Hospital.
The english language video has been viewed by more than 1200 people on the most popular video sharing surface. However, the report guide is also available in Hugarian.

Press Office