Three years from now, the University of Debrecen will host the European University Games in ten sports and thousands of athletes. At the press conference held after the meeting of the organising committee it was revealed that never before had a sport event of this scale been organised in Hungary.
The University of Debrecen and the University of Miskolc will jointly organise the European University Games in 2024. The two universities, the local governments of Debrecen and Miskolc, the Hungarian University and College Sports Association (MEFS), and the sport federations submitted the application in January 2018. At the event 6,000 athletes will compete, representing 400-500 universities of more than 40 countries in 20 sports. About 1,000 volunteers will work at the event locations.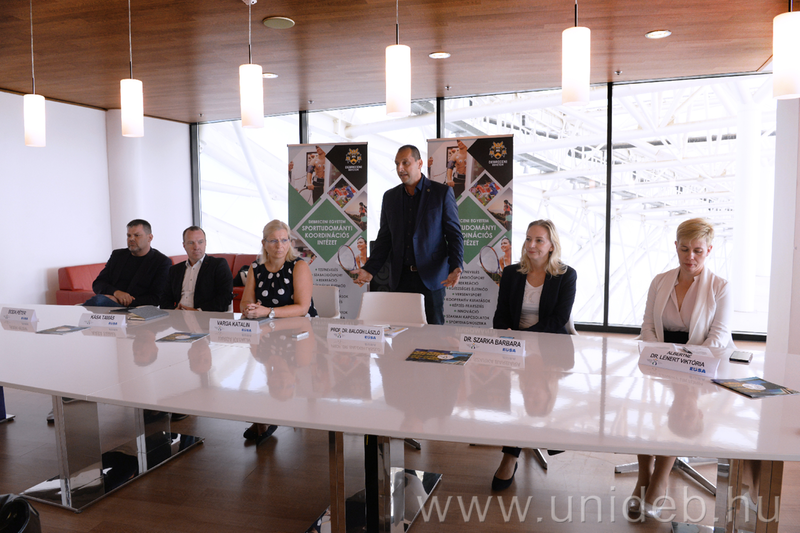 The organising committee of the European University Sport Association discussed details regarding the organisation of the Games and the related tasks to be completed in the next three years at Nagyerdei Stadium on Wednesday.

At the press conference László Balogh, Director of the Institute of Sport Sciences of UD (DESKI) said that Hungary had never organised a multisport event of this scale, which is the third in the world in terms of the number of participants.

- Sport is a strategic area at the University of Debrecen. This event offers a great opportunity for the two universities and the two cities to strengthen their cooperation in the fields of sport, community building and social responsibility. The quality and reputation of university sport in Hungary will improve at international level. Athletes represent universities, not countries at the Games, which may strengthen the identity of their universities and cities. Both universities have made investments in relation to the event, including the modernisation and construction of sport facilities that will be used by university citizens and the public after the event – pointed out the director of DESKI.

He added that the renewal of the János Kecskeméti sports hall and the construction of the new facility next to it will provide up-to-date venues for the teams. Besides, potential venues also include the planned gym of the János Balásházy Technical and Grammar School and Dormitory of UD, and the new field to be constructed at the Dóczy street facility. László Balogh thinks that in addition to building new facilities, the modernisation of the existing infrastructure and the installation of smart technologies may also be required.


Besides sports events, the University of Debrecen will also organise a range of science programmes, workshops, rectors' conferences, and events to promote sport science and physical culture.

Tamás Kása, head of the Miskolc-based working group of the organising committee said that the event would focus on education through sport, and on establishing strong links between studying and sport. He added that the construction of a new tennis centre and a beach volleyball centre is planned in Miskolc, which would be suitable for playing beach handball and beach soccer following the Games. They will also implement service development to help students in dealing with their everyday tasks. At

At the European University Games to be launched in July 2024 Debrecen will host the 3x3 basketball, handball, futsal, swimming, beach volleyball, para swimming, judo, kickbox as a novelty, as well as flying disc and badminton events. In Miskolc table tennis, basketball, soccer, tennis, karate, chess, beach volleyball, orienteering, volleyball, water polo and teqball events will be held.

The organisation of the Games has been started, and the implementation plans will be completed by the end of the year. The opening ceremony of the European University Games are planned to take place in Miskolc, while the closing event will be held in Debrecen, at the time of the launch of Campus Festival.

Sajtóiroda - BZ