The Summer University has ended
The Summer University has ended
2019. September 13. - 13:53
Learning Hungarian and getting to know Hungarian culture was the focus of this year's Summer University. 154 students enrolled and completed exams at the end of the one month period, with more than 80 percent of them finishing with a certificate of excellence.
The main subject was also the most challenging: learning the Hungarian language. Their knowledge of Hungarian grammar was tested every week and the certificates suggest that the students accomplished this task successfully.  154 students were enrolled in the month-long Summer University of Debrecen and more than 80 percent of themreceived a certificate of excellence by receiving a mark of more than 90 percent.

Just like in recent years the folk nights on Tuesdays and the gastro- and quiz nights on Fridays were very popular, and the participants had the chance to compare their knowledge on the Hungarian language, culture and other aspects of the country.


Amongst the diverse range of programmes, the evening sightseeing, bike tour and literary society group received the most applications, but many participants were interested in phonetics and small cooking classes as well.
This year's new trip destination, the Zsákai-Rhédey Castle provided beautiful scenery for the programmes: the students spent the day tasting wine, witnessing traditional archery, and even trying their hand at it. Other fun activities for participants included horse carriage rides and making chimney cakes. This summer traditional trips were organised in Hortobágy and Tokaj regions where students tried the local cuisine in a local tavern, rode in a mail-carriage and tried sweet Tokaj wines.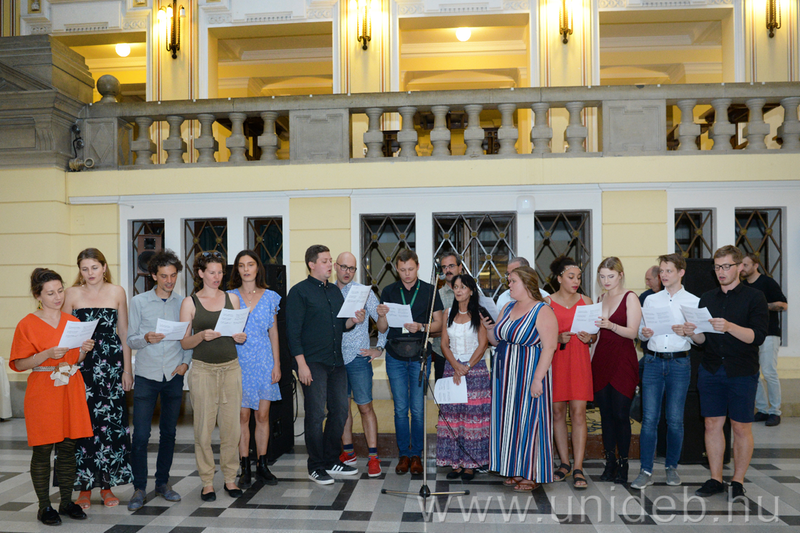 The Summer University ended with a special programme at the closing ceremony. Director Péter Szaffkó has been managing the Summer University for ten years and was thanked for his hard work by Elek Bartha Vice-rector from the University of Debrecen, and Edit Dobi on behalf of his colleagues. Since he became Director, the Summer University has participated in 32 successful tenders and expanded its offering with thematic and foreign language courses, international conferences and kids' camps.
PE