Agreement Signed with Rosatom
Agreement Signed with Rosatom
2017. June 20. - 16:21
The University of Debrecen has signed a memorandum of understanding concerning an intent of cooperation with the Rosatom International Network, announces rosatominternational.com. In the future, the university may act as a partner institution of the network in the fields of training and research.
On June 19, 2017 in the framework of the IX International Forum ATOMEXPO Rusatom — International Network and the University of Debrecen (Hungary) signed a Memorandum of Understanding.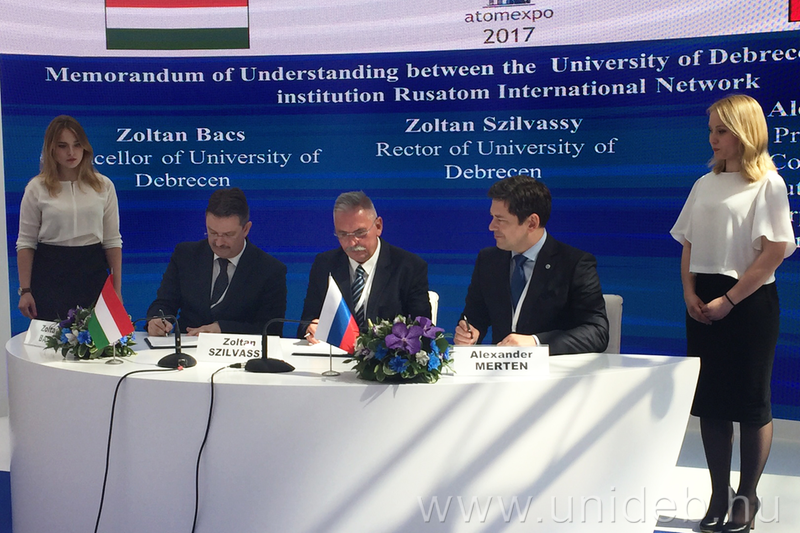 Alexander Merten, the company's president, signed the document on behalf of Rusatom — International Network, the University's rector Zoltan Silvashy and the institution's chancellor Zoltan Bach signed it on behalf of the Hungarian side.
The memorandum establishes a foundation for cooperation between the parties and future joint projects in the scientific and educational spheres, including the organization of lectures and bilateral seminars, publication of learning materials, implementation of student exchange programs with Russian technical higher education institutions.
Aside from that, in a Memorandum on human resources training for the nuclear industry and related areas that was signed by State Atomic Energy Corporation Rosatom and Hungary's Ministry of Human Capacities in 2015, the parties agreed to research the possibilities of creating a faculty for preparing nuclear industry personnel at the University of Debrecen.
The document also includes cooperation in the implementation of applied and commercial projects in the spheres of nuclear medicine, isotope and radiopharmaceuticals production, and so on «Rosatom traditionally pays great attention to cooperation in the sphere of science and education. I am especially pleased that one of Hungary's leading universities joined the roster of our partners," noted Alexander Merten.
«The cooperation between the university of Debrecen and Rosatom is greatly important for both Hungary and the University, especially considering the fact that the corporation, along with the university — by unifying special technologies that have been developed earlier, (like technologies having to do with medical isotope production, as well as isotopic carriers) can greatly increase their competitiveness», noted Zoltan Silvashy.
rosatominternational.com/Press Office