Fulbright: Out into the Big World
Fulbright: Out into the Big World
2017. June 16. - 15:05
A delegation of education experts, taking a one-week tour of Hungary on behalf of universities in the United States, has also learned about the English-language programs offered at the University of Debrecen. Their aim is to strengthen bilateral relations within the Fulbright Program.
Twelve representatives from ten US universities have come to Hungary for a seven-day tour, during the course of which they have also visited the University of Debrecen. They were interested primarily in the English-language program offer of our institution and they also declared their intention to have closer connections with us.
"This would also intensify the relationship between our country and theirs in addition to the fact that the Fulbright Program is a prestigious scholarship opportunity that organically matches the international strategy of the University of Debrecen," said László Csernoch to unideb.hu following the June 14 visit.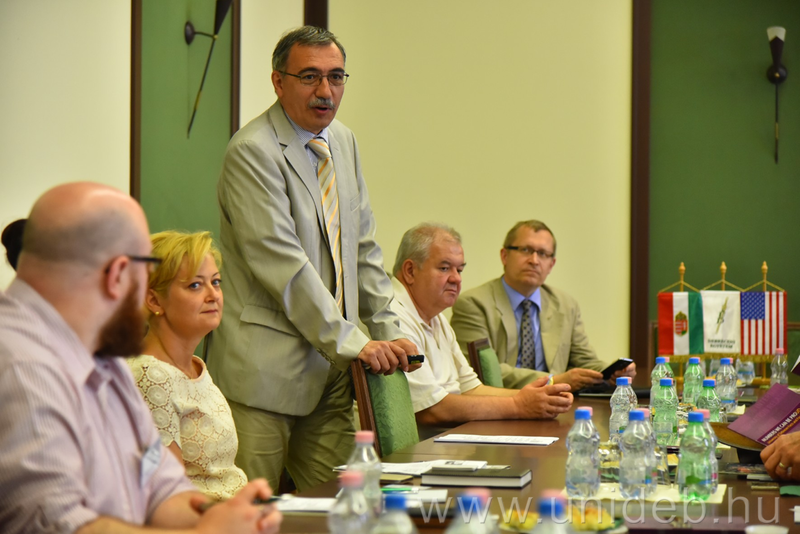 The Vice-Rector for Academic Affairs explained that the visitors were interested primarily in the programs offered in agriculture, technology, and medicine but they also noticed the potentials inherent in the broad range of courses available at Debrecen Summer School, where participants can also learn about the culture of our country beyond a chance to study the Hungarian language.
"During the course of the negotiations, we could specify the possibilities available for enhancing bilateral international relations. This is of vital importance for us, as our university has such a broad range of English-language programs to offer that should be advertised unreservedly all over the world," added László Csernoch.
Fulbright scholarship possibilities are available for those Hungarian citizens who hold a college degree and have an appropriate command of English, using which they would wish to study, teach or do research in the United States. Applications for scholarship grants may be submitted in any field of science or arts.
The Fulbright international educational and research scholarship and exchange program was established by the US senator J. William Fulbright in 1946, in order to create opportunities in academic exchange and research activities. As one of the most prestigious scholarship programs in the world, it operates currently in as many as 160 countries worldwide. Hungary joined the Fulbright Program in 1978.
From 1983 to the present, there have been 61 candidates from the University of Debrecen successfully applying for scholarship grants and gaining support from the Fulbright Program to study, teach, or do research in the United States.
 
Press Office