POP-Culture Week
POP-Culture Week
2017. April 05. - 14:35
The Department of German Studies is to hold this year's German Majors' Week (GMW) in cooperation with German Cultural Forum of Debrecen by introducing a series of lighter and non-scholastic functions into the range of professional and academic events arranged with the proverbial German precision.
For example, you can spot and recognize popular German cartoon characters on the first floor of the Main Building of UD, where an exhibition by the title "Comic" was opened at the beginning of GMW on April 4. A follow-up for this event was then offered by Sándor Trippó, a TA at the Institute of German Studies, who gave a talk on this ever-popular classic genre, based on a paper which he had already introduced earlier in Science Café.
"Our task has basically remained the same during the past few years. We wish to shape the primary function of the GMW in a way to make sure it enhances the practical aspects of the curriculum by strengthening the connections of the students with the world beyond the confines of the university," said Gert Loosen, Manager of Német Kulturális Fórum, who incidentally has been teaching at the Department of Dutch Studies of the University of Debrecen since 2004.
During the course of the week, students of the Institute of German Studies and translators will be able to attend a number of exciting presentations and workshops. The former include lectures delivered by Jonas Engelmann, a literary scholar, writer, and freelance journalist from Germany, Annemarie Tastel, a teacher of German and History, also from Germany, and Péter Németh, Vice President of Slam Poetry Budapest.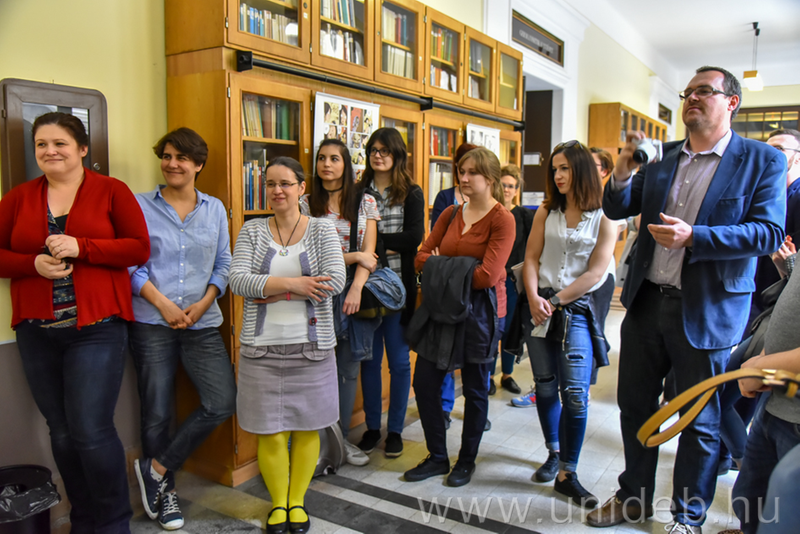 Although the professional academic program is designed primarily to cater for the interests of German majors of the Faculty of Humanities, all are welcome at the Thursday-night closing bash of GMW to be held in Sikk Café.
 
Press Office