International Dinner Contest
International Dinner Contest
2017. April 05. - 14:55
There were national dishes from 21 different countries prepared for this year's International Dinner. The bill of fare offered for the students at the traditional gastronomical feast included specialties from Azerbaijan, Mexico, and India, in addition to the staples of Hungarian cuisine.
The international gastro night, held traditionally in Klinika Mozi, has become an essential and inevitable point on the annual agenda of programs hosted by Foreign Affairs Committee of the Student Self-Government of the University of Debrecen over the years. The event for trying national dishes in the disguise of a contest was originally created with the aim of bringing Hungarian and international students closer to one another so that they could get to know better the cultures and cuisines of the various nationalities the representatives of which are present at our university.


On April 4, the culinary creations were tried, voted for, and the best three were then awarded prizes to on the basis of the opinions of the almost seventy contestants as well as of the three jurors delegated jointly from International Office and Foreign Affairs Committee of the Student Self-Government of the University of Debrecen.
The third prize went to Team India, who prepared a piquant and spicy lentil ragout served with naan bread. Team Turkey came in second with their stuffed grape leaves and sundaes, while the winners of the competition turned out to be students from the Czech Republic, who earned the top prize for their svícková game gnocchi.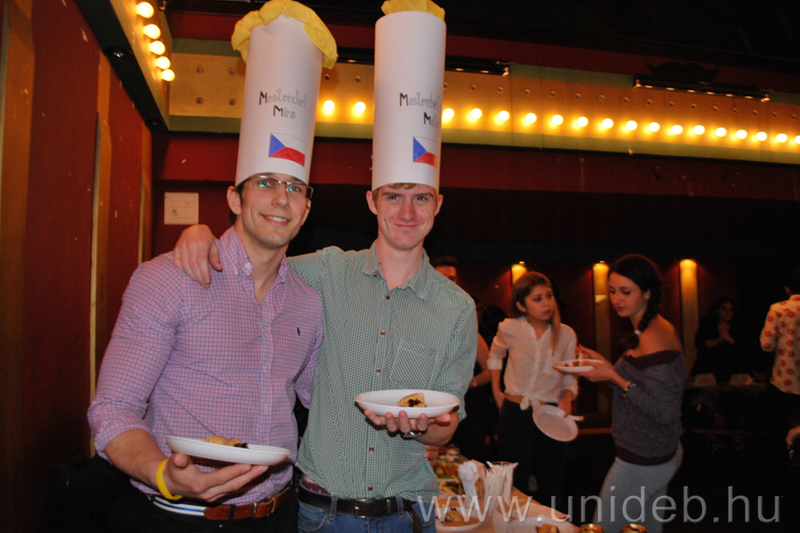 As a matter of course, the Hungarian offer also had to be up to scratch, for which the members of Foreign Affairs Committee of the Student Self-Government came up with their best efforts to treat those interested in domestic flavors to lepcsánka [potato pancakes], fasírt [meatballs], körözött [paprika cheese spread], somlói galuska [sponge cake with chocolate sauce and whipped cream], kenyérlángos [flat bread with toppings], and rétes [strudel], to be complemented with pálinka [fruit brandy] as a little something on the side. During the course of the spring semester, foreign students at UD will also be taking part in a number of excursions, the traditional International Event, and a farewell dinner to wind up the term.
DEHDK - Press Office