U-Multirank: Improvement in Our Position
U-Multirank: Improvement in Our Position
2017. March 31. - 14:01
The University of Debrecen is coming through flying colors in two dimensions ranked by U-Multirank. The global university comparison site ranks as many as 1,500 higher education institutions out of 99 countries, including 11 Hungarian universities.
"The project supported by the European union called U-Multirank ranks the institutions of higher education not on the basis of just one given aspect. It focuses on five individual dimensions (performance areas), while performance in each dimension is measured using up to 35 various indicators. These are then graded on a scale of five values, ranging from A (very good) through B (good) and C (average) to D (below average) and E (weak)," said Zoltán Kőrösi from UD's unit of Scientific Directorate.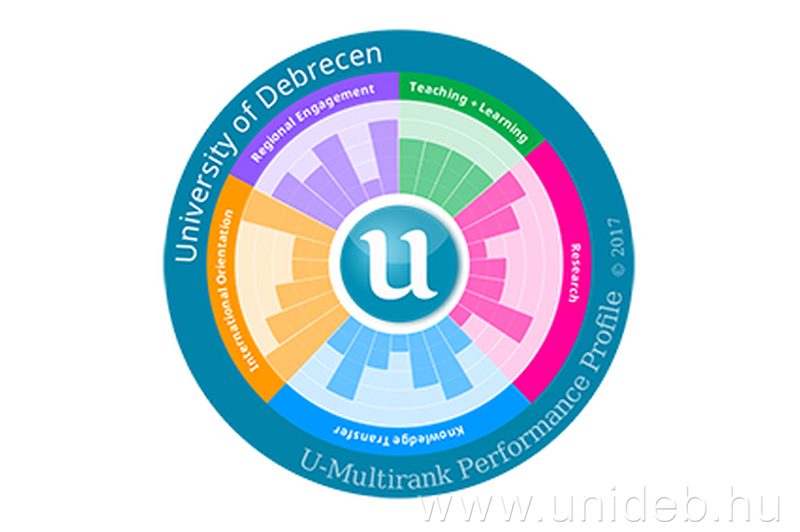 The University of Debrecen has scored the best results in the dimensions of international orientation and regional engagement, just like it did a year ago.
In the analysis of international orientation, it turns out that our university's best indicators are the ones about international publications and the number of foreign-language bachelor programs, while the quantity of foreign-language master programs is also significant. 
As regards regional engagement, the indicators of regional publications stand out, and the number of both bachelor and master graduates remaining in the region to work there following their graduation is also high.
In the dimension of knowledge transfer, the most outstanding value is that of the joint patents taken out with industrial partners (industry co-patents), while the indicator of the publications cited in them is also impressive.
The system of U-Multirank is user friendly, as it provides help for the students in selecting the right academic program, for the university managements in creating the proper strategies, and for the entrepreneurial sector in utilizing the labor capacity of qualified graduates.
Homepage: http://www.umultirank.org/#!/home
Press Office