The Elite of World Handball at Our University
The Elite of World Handball at Our University
2016. November 17. - 15:36
The traditions of Scandinavian, South Slavic, and Hungarian handball goalkeeper cultures came together at a unique conference hosted by the University of Debrecen, held last Thursday in Sport Science Educational Center.
"In addition to its accomplishment in the fields of education and research, the University of Debrecen is committed to implement its objectives also in the third area of its mission, which aims at making the transfer of knowledge beneficial for society around the institution in each field of science and scholarship, including that of sports, too. Sport sciences have a lot to transfer to actual practice in sports, and we in higher education can also rely heavily on the practical sides of sports. These two sides must be connected, and the present conference is a splendid occasion for achieving exactly this," said László Balogh in his welcoming address. The director of Sport Science Coordination Institute added that modern training science today is not about grand theories of training any longer. In order to be successful, you need tailor-made plans and schedules specifically prepared for your concrete branch of sports and also for your position in the team.


"Athletes need to be prepared for the exact situations they might find themselves facing in the given branch of sports. Players in various positions need different sets of competences in order to be effective. At this conference, we could implement a comparative inquiry within a variety of sports cultures through examining the goalkeepers in Scandinavian, South Slavic, and Hungarian teams," said László Balogh.
Chancellor Zoltán Bács emphasized at the opening of the event that, in the course of the past 10 or 12 years, the University of Debrecen could utilize a number of resources to assist in the achievement of its objectives in sports, sports science, and sports research, thanks to which the present Sport Science Coordination Institute has been established, together with servicing facilities, such as its Sport Science Educational Center and its Sports Diagnostics, Lifestyle, and Therapy Center.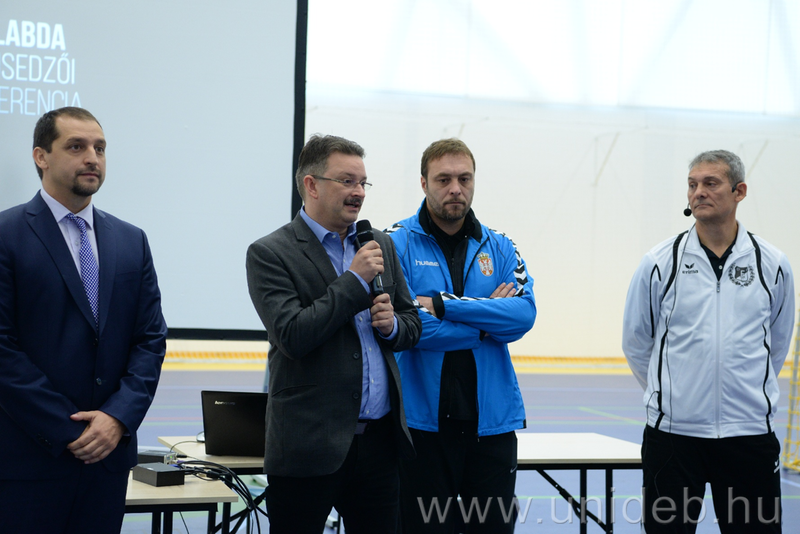 "Our not-so-secret aim is to resurrect handball in Debrecen through profoundly systematic efforts exerted in the course of a time period of several years, a part of which is supported by the present conference. A significant partner for us in this endeavor is Hungarian Handball Federation, with the support of which a handball training hall will be soon completed next to our school in Pallag, just overby the location of the new football academy," said the Chancellor.
Zoltán Marczinka, Sports Director of Hungarian Handball Federation believes that this conference represents a pioneering effort and it is in accordance with the endeavors of International Handball Coach Training Center of HHF, the overall objective of which is to familiarize Hungarian coaches with the most recent methods and techniques.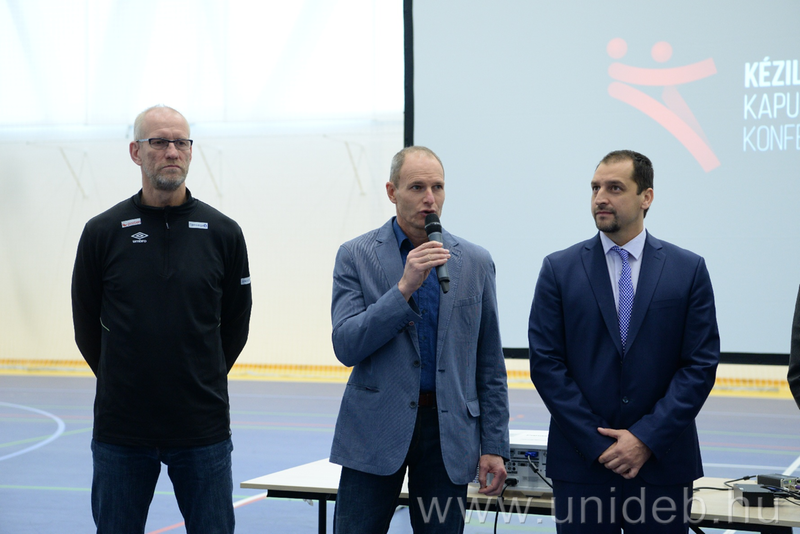 "For a most profound exploration of the scientific background of this branch of sports, we wish to establish as close relations as possible with the institutions of higher education involved in physical education and teacher training, especially with the University of Debrecen," said Zoltán Marczinka.
Imre Bíró, former member of the Hungarian national handball team, project initiator and chief organizer of the conference, also working for Sport Science Educational Center, highlighted that the various styles of handball schools today would be combined to a great extent, due to the fact that the goalies leave their individual traces behind in each team or club wherever they transfer to and from.
"This conference is an excellent opportunity for us to establish common grounds and a mutually shared view concerning the future of training programs for goalkeepers, since we have the most acclaimed representatives of handball present here," said Imre Bíró.
There were two world-famous experts on handball giving talks at the conference. The South Slavic school of handball was represented by Dejan Peric, manager of the Serbian national handball team, who has won two Champions' League titles and a European Cupwinners' Cup, relying primarily on the self-knowledge of players. He pointed out that, by introducing a personality-centered program of training, the overall objective in Serbia is to continuously improve personal performance.
Mats Olsson, world and European champion title holder with the Swedish national team, European Champions' Cup winner with his Spanish club, and goalkeeper coach for the Norwegian female national handball team, gave a presentation on the statistics-centered training methods of Scandinavians. According to him, competitive sports would need to advance hand in hand with sports science, and the higher the quality of play becomes, the more we would need to rely on the findings of related fields of science. Mats Olsson reckons that, due to the accelerated nature of the play today, which appears to be more palpably present in male handball than in its female variety, we would soon need to separate youth training programs on the basis of gender.
In addition to following the presentations delivered by the two internationally acknowledged experts, the audience at the conference also had a chance to meet former goalkeepers of the Hungarian national handball teams in person.
 
Press Office